With an area of only 37 square miles, the island of St. Maarten/St. Martin is the smallest land mass in the world to be divided between two governments. Its dual owners are the Dutch and the French, who have shared the tiny and paradisical island more or less peacefully for almost 350 years. This understated absence of conflict testifies to one of the island's most precious and attractive characteristics--its unusual serenity.
Situated about 150 miles east of Puerto Rico, Dutch St. Maarten (the French spell it St. Martin) covers 16 square miles of the southern part of the island, an area marked by verdant, rolling hills that languidly rest above mile after mile of beach, salt pond, and lagoon. Although the region falls under the government of Netherlands Antilles and the Kingdom of the Netherlands, its diversity and the strong influence of West-Indian traditions make its culture anything but exclusively Dutch. St. Maarten's atmosphere is a winning blend of Caribbean hospitality and European sophistication.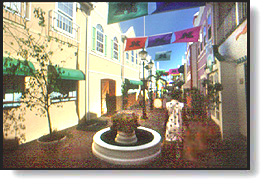 Philipsburg, the Dutch capital since 1768, is widely known for its colonial architecture. The town began as a Dutch trading center, and the forts around Philipsburg are haunting reminders of its one-time strategic importance. Traders from throughout the empire once sailed through the protective arms of its Great Bay, establishing the town as a lively center of international commerce. Although most of the vessels that arrive in the harbor today are cruise ships, international trade still thrives in St. Maarten thanks to its status as a leading duty-free port. To put it simply, St. Maarten is a shopper's dream.
St. Maarten is also known throughout the Caribbean for its eclectic nightlife. The evening ritually begins at sunset, when cafes and night clubs open their doors and the music of steel drum bands floats along the beaches. The island's festive spirit peaks during carnival, a vibrant, two-week festival of feasting, street dancing, parties, and parades.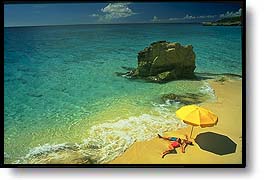 St. Maarten's dependable trade winds free the island from oppressive heat or prolonged leaden skies, and its temperate climate is consistently graced by the sun.
The island's sugary-white beaches are spiritually restive and abundant, and walkers who encounter them are often struck by their splendid seclusion. Off-shore, St. Maarten's life-rich waters provide superb boating and fishing, as well as excellent diving areas. The inland region, with its gentle valleys and hills, is ideal for biking, horseback riding, and exploration. All these offerings have made St. Maarten a famous tropical destination, and the island is dotted with world-class resorts. Private guest houses are also an increasingly popular form of lodging, catering to visitors seeking traditional Caribbean hospitality.
---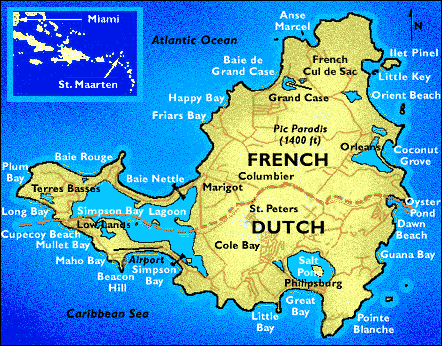 ---
St. Maarten Home Page | Philipsburg | History | Culture | Cuisine | Getting There | Travel Tips | Lodgings | Nightlife & Casinos | Calendar of Events | Carnival | Exploring | Beaches | Activities | Diving | Boating & Fishing | Eco-Adventures | Shopping | Marriage | Tourist Offices | Geographia Home | St. Martin French
---
St. Maarten

St. Maarten Tourist Bureau
Vineyard Office Park
WG Buncamper Rd. #33
St. Maarten N.A.
Tel: 5995-22337
Fax: 5995-22734


Canada

St. Maarten Tourist Office2810 Matheson Boulevard EastSuite 200
Toronto, Ont.
L4W 4X7 Canada
Phone: 416-622-4300


Brazil

St. Maarten Tourist Office
Av. Ipiranga 318 bl A - 5 Andar
Sao Paulo - SP- CEP 01046-010
Brazil
Phone: 55-11-214-5588
Fax: 55-11-258-3575


USA

St. Maarten Tourist Office
675 Third Avenue, Suite 1806
New York, NY 10017
Tel: (212) 953-2084
Fax: (212) 953-2145
Toll Free: (800) 786-2278 (1 800 STMAARTEN)


Argentina

St. Maarten Tourist Officec/
Florida 890 2nd Floor - G
1107 Buenos Aires, CF
Argentina
Phone: 54 11 4343 1100
Fax: 54 11 4343 0750


Italy

St. Maarten Tourist Office
Via Durini 2
20122 Milano
Italy
Phone: 30 02 76 02 12 03
Fax: 39 02 76 00 32 17

.