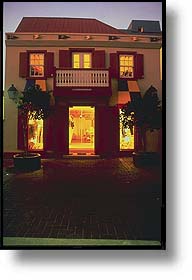 Fueled by a healthy tourist industry, an international reputation, and a duty-free fervor that never seems to end, night on St. Maarten is a time when things are just beginning. Much of the nightlife is concentrated at the big resorts, which combine night clubs, restaurants, and late-night shopping. Many hotels organize beachside barbeques, with dancing to the music of a steel drum band (you don't usually have to be a hotel guest to join in).
The island's discos attract an international crowd, all dancing to the latest club hits. The best Caribbean music on the island can be found at the island's many live-music clubs, where one is as likely to find as many locals as visitors. Among the island hot spots are the News Music Cafe, Greenhouse, Indiana Beach, Amnesia, and Cheri's Cafe.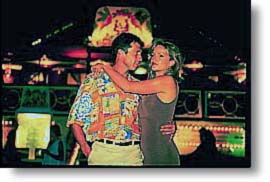 For many visitors, the island's nine casinos (all on the Dutch side) are a major attraction. The gaming is European style, subdued and sophisticated, and open to everyone from high-rollers to beginners. Staff members are always ready to take first-timers through the basics.
The largest casino on the island is Casino Royale, at the Maho Beach Hotel. Open from 1 pm to 4 am every day of the year, Casino Royale has table limits ranging from US$5 to $2,000 for blackjack and from $5 to $500 for craps. Just a few minutes away is the Atlantis Casino at Cupecoy Beach. Taking inspiration from the legendary underwater city, the casino is decorated in an ancient nautical theme. The Atlantis has a private gaming room for high-stakes baccarat, French roulette, chemin de fer, and seven-card stud poker.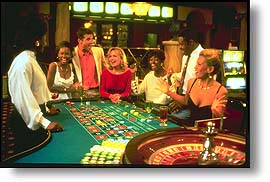 Philipsburg's busy Front Street is home to two casinos: Rouge et Noir and the Coliseum Casino. The futuristic design of Rouge et Noir is more Las Vegas than Monte Carlo. The flashing lights of video keno and video poker keep the atmosphere lively. The Coliseum has three floors of entertainment, all designed in a style evocative of ancient Rome. Slot machines are on the main level, poker machines can be found on the upper level, and the lower level houses a private gaming room featuring blackjack, roulette, and Caribbean stud poker.
Sports fans will enjoy the Lightning Casino, which features boxing, baseball, soccer, hockey, football, basketball, and horse racing on big-screen televisions. Located just minutes from the airport, the casino offers free transportation from anywhere on the island and limousine service to rated players.
Other casinos offer gaming in exciting resort settings. The Pelican Casino, at the Pelican Resort in Simpson Bay, is a Vegas-style casino with blackjack, roulette, craps, and slot machines. Nightly dancing on the Pelican Reef terrace and island shows with Caribbean bands are also featured. Another hot spot is the newly-renovated Golden Casino at the Great Bay Beach Hotel. Payback on its slots goes as high as US$2,500.
Maho Beach Resort is featuring "International Cabaret Cubana" at the Comedy Club. Shows are Wednesday thru Sunday at 10pm. Price is $25.00 w/1 free drink. For reservation/tickets call 52115 ext. 4830. There are two other casinos, The Diamond Casino and The Paradise Plaza Slots both located on Frontstreet in Philipsburg.
AXUM Jazz Cafe:
St. Maarten has added an alternative form of entertainment to its club scene. AXUM Jazz Cafe, located at #7 Frontstreet, Philipsburg, offers a multi-faceted entertainment menu from live jazz music and reggae to dramatic presentations and poetry readings. AXUM provides a cozy atmosphere with its quasi-noveau primal decor and war shades of nectarine and rust-colored antique furnishings. The cafe also serves as a backdrop for the Caribbean's finest contemporary artists to display their works of art. AXUM opens Tuesday through Sunday at 6:00pm and serves light platters, appetizers and a variety of beverages.
New Party and Dinner Cruise Boat
Sun Star Cruises, a new party and dinner cruise boat, has arrived on the St. Maarten entertainment scene. Sun Star Cruise, located along Airport Road in Simpson Bay, offers Sunset Dinner Cruises, Moonlight Party Cruises and Special Custom Charters. The four-hour sunset dinner cruises set sail at 6:00pm on Tuesdays and Fridays. Priced at $55.00 per person, the sunset cruise accommodates up to 125 guests and includes two glasses of wine or champagne, dinner buffet and entertainment. The Moonlight party cruise accommodates up to 175 passengers and departs at 6:30pm on Wednesdays and Thursdays. Priced at $35.00 per person, the four-hour cruise includes two glasses of wine or rum punch, snacks, entertainment and a nightly dancing contest. Special custom charters are available on request for weddings, anniversaries and special events. Reservations can be made at 011-5995-54118.
.