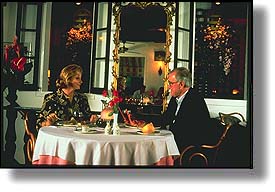 S t. Maarten's cuisine subscribes to the general diversity of its people, revealing touches of the French, who have shared the island for more than 350 years, and the Spanish. A favorite hobby in St. Maarten is recipe swapping, and following are some of the favorites.

---
Recipes

Selections from Caribbean Cooking (HP Books) and Caribbean Desserts (Crossing Press) by John DeMers
---
Callaloo Soup (Caribbean Greens)
One of St. Maarten's National Dishes
2 pounds fresh kale
1/2 pound callaloo, or fresh spinach
12 okra pods
1/4 pound salt pork, cut into thin strips
1/2 pound fresh lean pork, cubed
2 onions, thinly sliced
Freshly ground black pepper to taste
1 hot pepper, seeds removed, sliced
1 tablespoon chopped fresh thyme
6 cups chicken stock
Pull all stems from kale and callaloo. Discard stems and roughly chop the leaves. Wash leaves thoroughly. Rough chop the kale. Place salt port in a large, heavy soup kettle and sauté over medium heat for 10 minutes, rendering fat. Discard all but 2 tablespoons of fat.
Add pork cubes and onions to pan. Sauté over medium heat until cubes are brown and onions are translucent, about 5 minutes. Add kale, callaloo, okra, black pepper and hot pepper. Add thyme and stock. Cover and simmer 2 1/2 hours. Remove salt pork before serving. Makes 6-8 servings.
---
Crab Backs
(Crabmeat-Stuffed Shells)
12 live blue crabs
3 tablespoons butter
1 medium onion, chopped
1 medium tomato, chopped
3 tablespoons chopped chives
1 tablespoon Worcestershire sauce
Salt and freshly ground black pepper to taste
Unseasoned dry bread crumbs
Bring water to boil in a large pot. Add crabs. Boil 15 minutes, until the shells turn bright red. Drain and cool. Break open the claws and pick out the meat. Discard pieces of shell. Carefully open the crab backs, removing and reserving any meat and fat, but discarding gill and white intestine. Scrub empty shells thoroughly.
Preheat broiler. Melt butter in a medium saucepan over medium-high heat. Add onion, tomato and chives. Cook until softened and remove from heat. Stir in flaked crabmeat, Worcestershire sauce, salt, and black pepper. Refill crab backs with the crab mixture and sprinkle with bread crumbs. Place stuffed crabs on a baking sheet and brown under broiler. Serve hot. Makes 6 servings.
---
Bakes (Johnny Cakes)
1 lb. flour
2 teaspoons baking powder
2 teaspoons salt
1/4 teaspoon white sugar
1 cup vegetable oil
warm water
Combine flour, baking powder, salt and sugar in a large mixing bowl. Add enough warm water to make a stiff dough. Knead well until dough is smooth and all lumps have disappeared. Place on floured board and allow to stand for 20-30 minutes. Heat oil in frying pan and drop small flattened portions of dough in hot oil. Fry until golden brown. Serve hot.
---
Philipsburg Pancakes
(Pumpkin Flapjacks)
1 cup flour
1/2 teaspoon baking powder
4 tablespoons sugar
1 teaspoon salt
1 teaspoon ground cinnamon
2 eggs, lightly beaten
2 cups milk
1 teaspoon vanilla extract
2 pounds pumpkin, mashed or pureed
Corn oil for frying
In a bowl, sift together the flour, baking powder, sugar, salt and cinnamon. Combine the eggs, milk and vanilla in a separate bowl, then pour into the mixed dry ingredients. Stir in the pumpkin and blend well.
Heat the corn oil in a heavy skillet. Drop the batter 2 tablespoons at a time into the skillet. Cook until golden brown on both sides, flipping each pancake once. Drain on a paper towel. Serves 4.
---
Coconut Sugar Cake
2 cups sugar
2 cup grated coconut
1/2 cup water
2 drops almond essence
Boil sugar and water until sugar is dissolved. Add coconut and essence and cook over medium heat, stirring all the time until mixture begins to look "grainy." Remove from heat and beat for a few minutes. Then, drop small quantities into small mounds on a greased baking sheet. Allow to cool and harden.
---
Butter Cookies
1/2 pound unsalted butter, softened
1/2 cup sugar
1/2 teaspoon vanilla extract
1 1/2 cups flour
1/4 teaspoon salt
Preheat the oven to 350F (175C). Cream the butter with the sugar and vanilla extract in a large bowl until the mixture is light and fluffy. Combine the flour with the salt, then sift into the bowl 1/2 cup at a time. Beat well after each addition. Scoop the dough onto the center of a large ungreased baking sheet. Using a metal spatula or table knife, spread into a 9-inch square about 1/2-inch thick.
Bake on the center rack of the oven until firm to the touch and golden brown, about 35 minutes. Remove the pan from the oven and cut the "botercoek" into 1-1/2 inch squares. Cool the squares on wire racks. Makes about 3 dozen cookies.
---
Coconut Turnovers
Filling:

1 coconut
1 1/2 cups sugar
1/2 cup water
1 teaspoon almond extract

Bun (Turnover):

4 cups flour
1 1/2 teaspoons salt
6 ozs. margarine
2 ozs. sugar

2 eggs
1 oz. yeast
1 cup warm milk
1 egg beaten
Combine shortening, sugar, and boiling water and allow to cool until only lukewarm. Sprinkle yeast over lukewarm water and allow to stand for 10 minutes. Stir until dissolved and add to first mixture. Stir salt and flour in a large bowl making a well in the centre. Add liquid mixture and mix well. Turn out dough on floured board and knead until very smooth. Then place in a greased bowl, cover with a cloth, and allow to rise in a warm place until double in bulk, about 2 hours. Divide in two and on floured board roll into French loaf shapes. Place on baking sheets, sprinkled with flour, and allow to rise in warm place until double in size. Brush slightly with beaten egg white and bake at 400F for 15 minutes, with a shallow pan of boiling water on bottom rack of oven. After 15 minutes, remove pan of water and brush again with egg white and bake 30 minutes longer at 350F.
---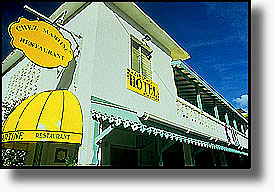 Restaurants
American
Hot Tomatoes
Phone: 5995-452223
Peg Leg Club
Simpson Bay
Phone: 5995-445859
www.peglegpub.com

Argentinian Cuisine
Los Gauchos
Pelican Resort
Phone: 5995-424084
www.los-gauchos.com
Caribbean
Cabana Beach Bar & Resort
Phone: 5995-44-3737
Harbour View Restaurant
Philipsburg
Phone: 5995-425200
Temptation
Cupecoy
Phone: 5995-452254
Breakfast
The Hideway
Pelican Key
Phone: 5995-443005
Mary's Boon
Simpson Bay
Phone: 5995-457000
www.marysboon.com
Ric's Place
Simpson Bay
Phone: 5995-453630
www.ricsplace-sxm.com
French
Antoine Restaurant
Philipsburg
Phone: 5995-422964
www.antoinerestaurant.com

Citrus At Cupecoy
Cupecoy
Phone: 5995-454333
www.theinnatcupecoy.com

Le Bec Fin Restaurant
Simpson Bay
Phone: 5995-443930
www.lebecfin.net
German
Bavara Restaurant
Simpson Bay
Phone: 5995-442665
www.bavariarestaurant.com
International
Bamboo Bernies
The Caravanserai Resort
Phone: 5995-453622
www.bamboobernies.net
The Greenhouse
Philipsburg
Phone: 5995-422941
www.thegreenhouserestaurant.com
Top Carrot
Simpson Bay
Phone: 5995-443381
12 Metre Yacht Club
Philipsburg
Phone: 5995-421289
Beau Beau's
Oyster Pond
Phone: 5995-436043
Café Juliana
Simpson Bay
Phone: 5995-453969
Buccaneer Beach Bar
Simpson Bay
www.buccaneerbar.com
Jimbo's Café
Simpson Bay
Phone: 5995-443600
www.jimboscafe.com
Vermeer Restaurant
Madame Estates
Phone: 5995-598702
Pinneapple Pete
Simpson Bay
Phone: 5995-446030
www.pineapplepete.com
Italian
Pizza Galley
Simpson Bay
Phone: 5995-577416
Ristorante Laguna
Simpson Bay
Phone: 5995-452025
La Rosa
Next to Casino Royal at Maho
Phone: 5995-453470
www.larosarestaurant.com
Seafood
L'Escargot Restaurant
Philipsburg
Phone: 5995-422483
The Boathouse Restaurant and Bar
Simpson Bay
Phone: 5995-445409