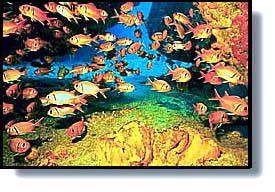 Divers have long recognized the Caribbean as one of the world's best diving venues. Its warm, shallow waters create ideal conditions, and St. Maarten's diving is true to the good reputation of the region as a whole. Water temperatures average a comfortable 70 degrees F (21 C), while visibility ranges between 75 and 125 feet (22-37 m).
The islands reefs are rich and often located close to shore, accessible to snorkelers as well as divers. The best snorkeling spots are off Little Bay Beach, Dawn Beach, and Maho Bay. Certified divers can rent tanks and equipment from watersport shops throughout the island. Beginners can take advantage of lessons from experienced professionals. Many of the island's resorts have scuba facilities on site.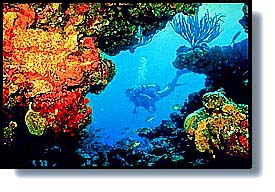 One of the most popular dive sites is the wreck of the British man-of-war HMS Proselyte, which sank in 1801. Today its haunting remains lie atop a reef a mile south of Great Bay. Another common destination is the freighter Teigland, sunk deliberately on Cable Reef in 1993. It has already begun to attract animal life and underwater vegetation.
Dive Safaris in Philipsburg
Phone: 5995-429001
Contact: divesafaris@caribserve.net
Dive Safaris in Simpson Bay
Phone: 5995-452401
Contact: divesafarisb@hotmail.com
Ocean Explorers Dive Centre
Simpson Bay Beach
Phone and Fax: 5995- 445252
Contact: divesm@megatropic.com
Scuba Fun
Great Bay Marina
Pointe Blanche Philipsburg
Phone: 5995-4570505
Contact: contact@scubafun.com