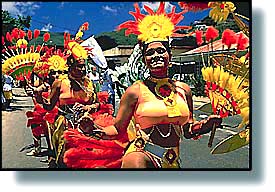 Carnival comes to St. Maarten once a year, bursting upon the senses just after Easter. It begins with the Balloon Jump-Up, the first of the "Jump-Up" parades that will wind their way through the streets until April 30, the birthday of Queen Beatrix of the Netherlands.
The Balloon Jump-Up celebrates the opening of Carnival Village, an area two blocks from Front Street that houses more than 100 food booths. Among the dishes no visitor should miss are conch and dumplings, open-pit barbequed chicken, and johnny cakes. You may also want to sample the "sea moss," a drink made of sea weed and brandy that is alleged to be an aphrodisiac.
The "Jump-Up" parades, comprised of floats, live bands, and brightly costumed dancers, are a top Carnival attraction, as is the Caribbean Queen Pageant. The largest of the processions is the Grand Carnival Parade, which features elaborately dressed Carnival troupes winding along a four-mile route. Between parades, crowds are entertained by steel drum bands and by comedians from throughout the Caribbean.
Competitions--and Calypso competitions in particular--are also an integral part of Carnival festivities. Long a traditional art form of the Caribbean, calypso tests the improvisational and narrative skills of a solo performer known as a "Calypsonian." The winner goes up against the previous year's Calypso King or Queen in a battle for the new title. There is also a separate junior calypso competition for children.
The day after a new calypso monarch is crowned is an early one, opening with a hearty 4 am welcome to the new day in the Jouvert (pronounced "Jou-vey") Morning Jump-Up Parade, which lasts until sunrise. The grand finale to Carnival is the Last Lap Jump-Up, lead by King Momo, the straw figure who reigns over Carnival. The burning of King Momo signals the end of Carnival--according to local legend, he takes the village sins with him, leaving the island pure.
As an added bonus, Carnival usually coincides with a drop in hotel rates for the summer season, so the most exciting time is also the most economical.