Thanks to a recent change in the law, non-resident couples can now have their wedding ceremonies performed here ... and begin their honeymoons right away. Until this year, the island's nineteenth-century civil code forbade non-resident marriages.
Couples planning to get married on St. Maarten must be at least 18 years old and must request a temporary tourist permit from the Lieutenant Governor. (The permit may not exceed three months.) The couple must also submit birth certificates, valid return tickets to their country of origin or another destination outside the Netherlands Antilles. Divorced persons may remarry in St. Maarten but should provide appropriate papers indicating a valid divorce certificate. (Divorced women may remarry after 306 days have passed.) All these documents must be translated into Dutch by an official translator or a notary public, in which case the notary's signature, stamp and seal must be included.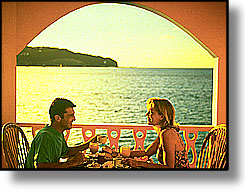 Once the request has been approved, there is a 14-day waiting period before the ceremony can be performed. Marriages can be contracted on Tuesdays through Thursdays for approximately US$102, on Fridays for approximately US$113, and Saturdays for approximately US$204. A local clergyman can then perform the ceremony at Philipsburg's Wedding Hall.
The written request for the temporary tourist permit and all supporting documents should be mailed to:
Chief Registrar
Census Office
Soualiga Road
Philipsburg, St. Maarten N.A.
Phone: 5995-424267

We strongly recommend you also fax the Lt. Governor at 011-5995-24884.