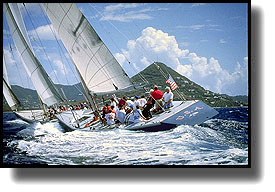 Every March, hundreds of participants from Europe, the United States, and the Caribbean visit St. Maarten to compete in one of the world's biggest sailing events--- the Heineken Regatta. The event has come to symbolize the island's prominence as a sailing venue, and St. Maarten is one of the few places in the world where the average person can sail on a world-class racing boat.
The St. Maarten 12 Meter Challenge, offered year round, gives visitors the chance to experience first-hand the thrill of America's Cup racing. Aspiring sailors serve as crew aboard the U.S. Stars and Stripes, which raced in 1987, or the Canadian contenders Canada II, True North, and True North IV, as these high-performance boats are put through their paces on a shortened America's Cup course. Previous sailing experience is not necessary, only a sense of adventure. More Regatta Information.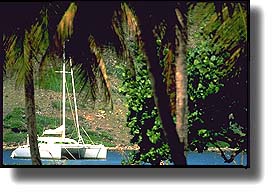 Sailors heading to St. Maarten on their own boats will find first-class marine accommodations. All of the island's dozen marinas provide outstanding service and easy access to provisions. Water and electric hook-up are standard, as well as dockside gasoline and (almost) round-the-clock dinghy service. Some marinas even provide dedicated phone lines and cable television hook-up. Slip space rates range from US$6-7.50 per foot per month, with day rates between 40 and 70 cents per foot. Those who want to explore on their own and drop anchor when the mood strikes them will find many bays and coves of ample depth, space, and protection.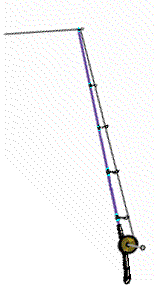 Visitors don't have to arrive on their own yachts to experience a sail off St. Maarten. Motorboats, sailboats, and canoes are available for rent at most marinas. Many charter companies offer day trips from Philipsburg to Saba and St. Eustatius (the other two islands that make up the Dutch Windwards group), Anguilla and St. Barth's. So-called picnic sails take visitors to secluded coves or nearby uninhabited islands (as implied in the name, lunch is included).
Deep-sea fishing is a popular St. Maarten activity, with full-day and half-day charters available year-round. The best fishing grounds are conveniently near the island, meaning less time spent traveling and more time fishing. Charters usually include tackle, bait, food, and refreshments. Bareboat charters are also available. The day's catch can include yellowtail, snapper, grouper, and marlin.
.