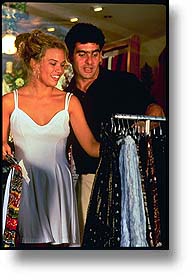 St. Maarten enjoys an unusual status as a commercial center: it is among the world's few duty-free ports. This means that no duty is paid on any item coming in or going out. Luxury items cost up to 50 percent less than in other countries, and it is a small wonder that shoppers and cruise ships from around the world head here to buy jewelry, electronics, perfume, crystal, and other expensive goods.
Most of Dutch St. Maarten's shopping is concentrated along Front Street in Philipsburg. Boutiques stretch along the entire length of the street, and stylish arcades lead off in either direction. A truly international center, Front Street offers top-of-the-line products from around the world. Prices are quoted in US dollars, saving shoppers the confusion of sorting out exchange rates.
Jewelry is a perennial favorite for St. Maarten shoppers. The Front Street jewelers offer everything from loose diamonds and emeralds to original creations in gold and silver. Many jewelers also sell exclusive Swiss watches. Other great buys are international fashions, from Gucci to Ralph Lauren, fine leather goods, and top-of-the-line French cosmetics. Front Street also offers the best of 20th-century electronics, including televisions, CD players, cameras, and fax machines.
Native arts and crafts are not lost among all the Euro-ware. The more popular offerings are West Indian hammocks, wood carvings, handmade jewelry, and bottles of local guavaberry liquor. Private galleries showcase the work of artists from all over the Netherlands Antilles. Shops on Front Street are open from 8 or 9 am until noon, and then again from 2 until 6 p.m. Some stores remain open during lunch as a convenience to visiting cruise ship passengers. Most shops are open every day except Christmas and Good Friday.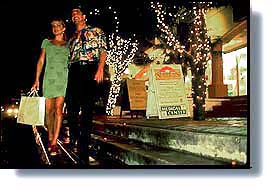 Many stores on St. Maarten remain open until the wee hours, alert to the sudden desire for acquisition triggered by casino winnings. Among the late-night shopping areas, Maho Bay has gained a particularly high reputation. Chic boutiques selling high fashion clothing, perfumes, and cosmetics now stay open almost as late as the surrounding nightclubs.
A note about duties: Every country has its own customs requirements on goods brought back from duty-free vacations. Front Street merchants can give details on most countries' requirements