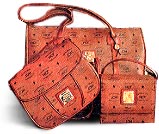 Adventures in Nature
Beaches
Bicycling
Bird Watching
Dining & Cuisine
Diving
Fishing
Gaming
Golf
Horseback Riding
Nightlife
Parasailing
Sailing & Boating
Shopping
Snorkeling
Tennis
Windsurfing
Other Activities
Effective January 1, 1992, the Government of the Commonwealth of The Bahamas abolished all import duties on 11 categories of items. Perfumes and Fragrances, Crystal, Leather Goods, Jewelry, Fine Linens and Tablecloths, Watches and Clocks, Photographic Equipment, China, Binoculars, and Telescopes are now all duty free. Savings on these items are between 25% - 50% below US prices, so it's easy to see why people often return from The Islands of The Bahamas with more than nice tans.

The two main shopping areas on the island are the International Bazaar and the Port Lucaya Marketplace. However, there are local arts and crafts to be found in the numerous straw markets, and licensed hair braiders, who can give you the "Bo Derek" look.

The International Bazaar is as worldly as its name implies. Visitors stroll their way through colorful archways along cobblestone paths that lead to quaint and cozy restaurants and shops representing countries from around the globe. France, India and Japan are just a few of the countries you can "visit" here.

Port Lucaya Marketplace features numerous shopping and dining opportunities in a picturesque waterfront setting with live entertainment in the Count Basie Square. Boat lovers will want to glimpse the impressive array of luxurious yachts anchored at the marina, an official port of entry.

There is also fine shopping to be found in the downtown area. Most stores in Freeport/Lucaya are open Mon-Sat, 10am – 6pm. Food stores are open all week, but on Sundays they are open only from 7am –10am.