Adventures in Nature
Beaches
Bicycling
Bird Watching
Dining & Cuisine
Diving
Fishing
Gaming
Golf
Horseback Riding
Nightlife
Parasailing
Sailing & Boating
Shopping
Snorkeling
Tennis
Windsurfing
Other Activities
---
THE ROB PALMER BLUE
HOLES FOUNDATION:
This not-for-profit organization is dedicated to the scientific and physical exploration of blue holes within The Islands of The Bahamas and related cave environments. Stephanie Schwabe, wife of the late renown diver is continuing his legacy by attempting to prove that the Lucayan cave systems are linked to Mermaid's Lair and Owl's Hole in eastern Grand Bahama Island. For more information, contact:

The Rob Palmer Blue Holes Foundation
506 Hawaii Avenue
P.O. Box F-40579
Freeport, Grand Bahama Island
Tel/Fax: 242-373-4483
e-mail: 100432.616@compuserve.com
---
Elaborate coral gardens, playful dolphins, and beckoning blue holes -- these are images of the "other" Grand Bahama, ones that live beneath that shimmering, impossibly blue surface that sprawls outwards from the beaches. The island's reputation as a diver's paradise has been growing ever since the earliest episodes of "Sea Hunt" were filmed here, yet oddly enough, the majority of visitors barely enter this magical world, preferring instead to hole themselves up in a casino or laze recumbent on a beach. Those newcomers who do throw on tanks and head out on a dive boat are almost always enthralled by what they find. Namely, some of the most unique dive sites and situations in the world.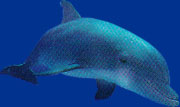 For one, Grand Bahama Island is the only place you can be guaranteed to dive with dolphins in the wild. This is done through the Underwater Explorers' Society's (UNEXSO) "Dolphin Dive" program, in which resident dolphins from The Dolphin Experience rendezvous with divers at a reef about a mile off shore. Many people wait their whole lives to get close to a dolphin in the wild before learning that they can swim with them right here on Grand Bahama Island. If you want to dive with sharks, there are also two highly rated feeding programs, one with UNEXSO and another with Xanadu Undersea Adventures. In both programs, an experienced shark feeder clad in chain mail hands offer fish to a swirling group of Caribbean reef sharks. As anyone who's done this dive will tell you, it makes an outstanding photo.

Grand Bahama is of course also famous for its "blue holes" -- spectacular azure portals in the reefs where you can descend, surrounded by reef wall on all sides. Part of the reason for the dense and unique reef structure is the massive limestone base on which The Islands of The Bahamas rest, a phenomenon that also accounts for what is perhaps Grand Bahama Island's most extraordinary submarine feature: the second largest underwater cave system in the world. Located in Lucayan National Park, the caves are still being explored, and there are numerous special dive programs that can take you into them (provided you are cave certified).

Good diving!