Getting To Grand Bahama Island
Grand Bahama International Airport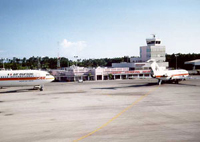 Privately owned and operated, the Grand Bahama International Airport is a joint venture with Hutchison Port Holdings and The Grand Bahama Development Company. It offers US pre-clearance facilities, Bahamian Customs and Immigration clearance - attended 24 hours a day, 7 days a week. Scheduled and charter air carriers serving Grand Bahama Island include: Air Tran, American Eagle, Bahamasair, Gulfstream/Continental; US Airways, Western Air and others.
In addition to a General Aviation Centre for private planes, and light aircraft cleaning/repair facilities, Grand Bahama International has 24 hour taxi service and car rental agencies. Additional information about the airport can be obtained from:
Grand Bahama Airport Company
Airport Building, P.O. Box F-40916
Freeport, Grand Bahama Island
Tel: 242-352-6020
Fax: 242-352-4504
Email: gbacam@batelnet.bs
Lucayan Harbour Cruise Facility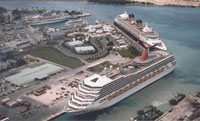 The Lucayan Harbour Cruise Facility, which is located at the Freeport Harbour, has just undergone $10.5M in renovations. It covers 1,630 acres, including cruise and day ferry berths, a Caribbean style retail and entertainment village center as well as a cultural Bahamian straw market. Guests are welcomed to the island by a live band and information about the island is available at the Tourism booth. The Grand Bahama Taxi Union provides both taxis and buses to various hotels and tourist attractions throughout the island. Regular calls to the Lucayan Harbour Cruise Facility are made by a number of major cruise lines. Click here for the cruise line schedule.
Freeport Harbour Company
P.O. Box F-42456
Freeport, Grand Bahama Island
Tel: 242-350-8000
Fax: 242-351-8044
Email: jones.raymond@fcp.com.bs
Getting Around the Island
Bicycling • Buses • Ferries • Motor Scooters • Rental Cars • Taxi Cabs
.....................................................................................................................
A public bus transportation system operates between both Port Lucaya Marketplace and the International Bazaar to the downtown area, and from downtown to the outlying areas of West End and East End. The one-way fare is $1.00 within the Freeport/Lucaya area; $1.50 to Eight Mile Rock; $4.00 to West End; $8.00 to McLean's Town. Exact change is required.
There is a free Government ferry service between Sweeting's Cay & McLean's Town as follows:
Depart Sweeting's Cay at 7:10am / Arrive McLean's Town at 7:30am
Depart McLean's Town – 8:30am
Depart Sweeting's Cay – 4:00pm
Depart McLean's Town – 5:00pm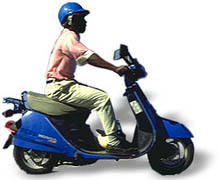 Motor Scooters
Motor scooters can be rented from the Resort at Bahamia, Pirates of The Bahamas and Port Lucaya Marketplace. Scooters are approximately $35 per day, with a $200 deposit for a two-seater. Half a tank of gasoline is supplied by the agency and there is no mileage charge. Insurance is included. A valid driver's license is required and, by law, drivers and passengers must wear helmets, supplied free by the agency.
Rental cars are available at Freeport International Airport. Average rates are $50 - $100 per day.
Car Rental Companies

Cartwright's Rent-A-Car
P.O. Box F-44097
Freeport, Grand Bahama Island
The Bahamas
Tel: 242-351-3002; Fax: 242-352-5686
Contact: James Cartwright
Email: cartrent@batelnet.bs
Ocean Reef Yacht Club & Resort
P.O. Box F-42695
Freeport, Grand Bahama Island
The Bahamas
Tel: 242-373-4661/2
Fax: 242-373-8261
E-mail: oceanreef@coralwave.com
Avis Rent-A-Car
Tel: 242-352-7666
Discovery Car Rentals Ltd
Tel: 242-373-2525
Hertz Rent-A-Car
Tel: 242-352-9277
Bahama Buggies
Tel: 242-352-8750
Dollar Rent-A-Car
Tel: 242-352-9325
KSR Car Rental
Tel: 242-351-5737
Brad's Car Rental
Tel:242-352-7930
Econo Car &
Motorbike Rental
Tel: 242-351-6700
Thrifty Car Renta
242-352-9308
Taxi cabs are located at the Grand Bahama International Airport, at the Lucayan Harbour, as well as major hotel and tourist locations. Sample Zoned Rates for up to and including two passengers:
From the Harbour to:
Royal Oasis Golf Resort & Casino $16.00
Xanadu Beach Hotel $17.00
Port Lucaya Marketplace $24.00
Taino Beach Resort/The Ritz $24.00
Viva Wyndham Fortuna Beach $29.00
From the Airport to:
Lucaya $19.00
Viva Wyndham Fortuna Beach $15.00
Royal Oasis $11.00
Xanadu/Woodbourne/Running Mon Marina $14.00.

NB: Metered rates are $3.00 for the first quarter of a mile and 40 cents each additional mile. Additional passengers over the age of two years are $3.00 each.
Additional information can be obtained from:
Grand Bahama Taxi Union
P.O. Box F-40374
Freeport, Grand Bahama Island
Tel: 242-352-7101
Fax: 242-352-7859
Contact: James Kemp