Ecosystems of
Grand Bahama Island
NATIONAL PARKS:
Lucayan National Park Peterson Cay
National Park
Rand Nature Center

ACTIVITIES:
Adventures in Nature Beaches
Bird Watching

GRAND BAHAMA
ISLAND ECOTOURISM ASSOCIATION:
The island has affirmed is dedication to the environment by establishing its own Ecotourism Association, whose mission is to "educate and promote the natural, cultural and historical features of Grand Bahama Island." Founding Members include the Grand Bahama Island Tourism Board, Chamber of Commerce, and Bahamas National Trust.

Business members include the Rand Nature Center, Garden of the Groves, Hydroflora Gardens, Kayak Nature Tours, East End Adventures, Paradise Cove, Pinetree Stables and Twin Gables. Companies wishing to join must follow several guidelines designed to keep the environmental impact of Tourism down. Some of the issues that the Association plans to address are littering, marine debris, and uncontrolled coastal activity.
If there is a best-kept secret on Grand Bahama Island, it probably rests somewhere on a secluded beach, within the lush tangle of a mangrove swamp, or in the colorful folds of a coral reef. Most people who come to the island never realize that its natural attractions are its finest assets, an oversight resulting from the simple fact that few of them ever stray far from the resorts and nightlife of Freeport/Lucaya. They have no idea what they're missing.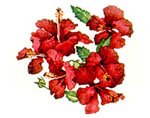 To begin with, there are three national parks on Grand Bahama Island. Lucayan National Park, the star of the triad, is the only place in the Bahamas where visitors can see all six of the island's ecosystems – a collection of plants and wildlife that offers an unparalleled view into the complex interaction of native land and sea. Also within the park is one of the world's longest underwater cave systems – a sprawling network of tunnels resulting from the island's unique limestone geology. The Rand Nature Center, with its resident flamingo colony, and reef-enveloped Peterson Cay National Park are equally thrilling in their beauty.

Both the Lucayan National Park and Rand Memorial Nature Center are easily accessible, but Peterson Cay can only be reached by boat.

Birdwatchers and plant lovers in particular will enjoy Grand Bahama: the island has 18 of the 28 species of birds endemic to The Islands of The Bahamas, including the striking Abaco parrot, and 52 species of orchids. The Hydroflora Gardens, a research center where plants are grown without soil, and the Parrot Jungle's Garden of the Groves, are excellent natural excursions right inside Freeport/Lucaya.
And then there is the sea. As part of one of the largest reef systems on Earth, the reefs of Grand Bahama Island are spectacular in both geographical scope and biological diversity. They are so numerous, in fact, that at one time people here made a living by merely salvaging the ships that wrecked on them. Among the island's underwater treasures are the Hawksbill turtle, seahorses, dolphins, Caribbean reef sharks, and dozens of species of both coral and fish.