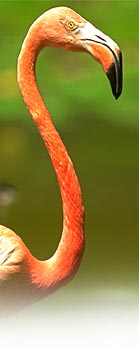 For further information, contact:
Mrs. Cecilia Bodie
Administrator/Education Specialist
Ms. Atlana Smith
Office Manager
Rand Nature Center
P.O. Box F-43441
Tel: 242-352-5438
Fax: 242-351-4192
E-mail: randnature@batelnet.bs


The Rand Nature Center
Grand Bahama Island
The Rand Nature Center was named for James H. Rand, a renowned philanthropist of Freeport, who died in 1968. The 100-acre sanctuary was the first education nature center to be established in The Islands of The Bahamas and its goal is to preserve the natural Grand Bahamian habitat as a heritage for future generations.
Guided tours are available on Tuesdays and Thursdays at 10:30 AM.
Located only minutes from downtown Freeport, the Rand Nature center is by far Grand Bahama's most accessible national park. And it's admission price is probably one of the best deals on the island -- $5 for adults, $3 for children 5-12, under 5 free.
Along the nature trail that winds through the park, at least 130 Bahamian plants have been identified, which are just as fascinating as the birds. The Whiskbroom Fern, for instance, is believed to have been the first plant in the world to stand upright. Many other species became very useful in the daily lives of early Grand Bahamians: Uniola, a springy grass, was used to stuff mattresses; the sharp-pointed Agave leaves served as needles and threads; and Love Vine, a guide might point out, is a powerful aphrodisiac -- perfect for honeymooners who might be too exhausted after a day of windsurfing!
The Rand Nature Center has a Gift Shop, featuring local art, books, nature jewelry and gifts.
Educational exhibits include island ecology, plants and their uses, cultural and natural history of Grand Bahama Island.