Wedding Consultant/ Coordinator:
A SOCIAL AFFAIR
P.O. Box F-40378
Freeport, Grand Bahama Island
The Bahamas
Tel: 242- 351-2657
Fax: 242-351-2659
Contact: Evangeline McBride
E-mail: asafair@batelnet.bs
Website: bahamaswedding.net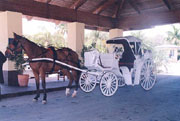 Marriage Regulations:

The Registrar General's Office understands the excitement of getting married in our paradise, therefore, only requires the following to obtain a marriage license:

1. The couple must be in Grand Bahama when applying for the marriage license, 24 hours before the wedding date.

2. If either party is under 18 years old, parental consent is required. Consent forms may be obtained from the Registrar General's Office.

3. If either party has been divorced, the original final decree or a certified copy must be produced. If either party is widowed, the death certificate of the deceased spouse must be produced.

4. If either party is unmarried, a notarized declaration certifying this fact must be produced and accompany the license application.

ALL DOCUMENTS ACCOMPANYING THE COUPLE MUST BE CERTIFIED/ NOTARIZED

No blood test is required for the marriage license, which is forty dollars ($40) and is valid for three months. The Registrar General's Office is open Monday through Friday 9:30 a.m. - 4:30 p.m. Tel: 242-352-4934, Fax: 242-352-4060.

Couples who require special documents or instructions may contact us directly prior to arrival.

After you arrive in Grand Bahama, you may register for a People-to-People wedding at one of our information booths located at the Grand Bahama International Airport, the International Bazaar, Port Lucaya Marketplace, and Lucayan Harbour, or through the social hostess at your hotel.

For more information, contact:

GRAND BAHAMA ISLAND TOURISM BOARD
People-to-People Department
P.O. Box F-40251
Freeport, Grand Bahama Island
Tel: 242-352-8044
Fax: 242-352-2714
E-mail: tkemp@gbitb.com or vrussell@gbitb.com







Weddings and honeymoons are a special time in life and deserve to be celebrated in an equally special place, so it's no wonder so many couples choose Grand Bahama Island. Here we have our own unique way of performing and creating matrimonial bliss for our visitors.


Photo courtesy of
Old Bahama Bay, West End,
Grand Bahama Island
Our scenic island is also the ideal place for the just-married to celebrate the beginning of a life together. There are breathtaking sights to see and numerous activities to enjoy.
Sporting enthusiasts can go diving or kayaking or golfing on championship courses. Adventurers will find much to explore from nature parks and botanical gardens to a full-service casino. And romantics will discover endless stretches of secluded, white sand beaches.
It all makes Grand Bahama Island the perfect honeymoon destination. And it's made even better by the money-saving honeymoon packages offered by many of our leading hotels.

Wedding Sites

Parrot Jungle's Garden of the Groves is the perfect place for a romantic, tropical wedding. Winding paths, duck ponds and cascading waterfalls provide the perfect backdrop for those keepsake photos. Floral patterns of gardenias, bougainvillea, and hibiscus to name a few, make beautiful bouquets that will certainly compliment whatever is worn on that special occasion. A departure from the traditional white wedding dress is the Androsia fabric, with its rich colours and beautiful floral designs make magnificent formal fabric and casual wedding attire for men, women and children.
Several hotels also provide the perfect setting for your special day. Old Bahama Bay, located at the western end of the island, has created two unique wedding programs that allow the bride and groom to design their own unique wedding celebration. If you choose one of the wedding packages at Our Lucaya Resort, you have the option to also be pampered in their spa and participate in activities designed just for couples. Pelican Bay Hotel, with magnificent views of the bay, provides the perfect romantic backdrop for your ceremony. And, afterwards, you can opt to be pampered in one of their individually-appointed suites. The garden at The Royal Oasis Golf Resort & Casino has become increasingly popular as a wedding site. This tucked-away spot features beautiful foliage, running streams and attractive poolside areas. And, the wedding chapel at Running Mon Resort & Marina offers an alternative to the traditional setting.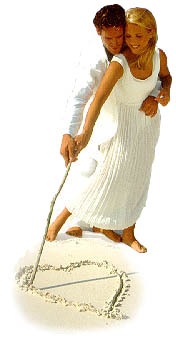 For the ever popular beach wedding, one can choose any one of our white powdery beaches that seem to stretch for miles.
Our People-to-People coordinators can assist you in arranging everything for a hassle-free wedding, including the minister, flowers, wedding cake, photography, and limousine services You may contact them for a listing of reliable suppliers and prices.