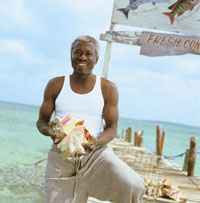 Grand Bahama Island has made significant contributions to Bahamian cooking. Roast conch, which can now be found all over the islands, was developed by Grand Bahamian chef Joe Billy (Billy Joe), then later achieved great exposure through Tony Macaroni, another local chef and character. "Crawfish," as it is called in the islands, or Spiny Lobster, is another major tradition. This clawless lobster is considered a delicacy, and is relatively plentiful in the surrounding waters. You'll find it on almost every menu.

For a unique cultural and dining experience, venture out to the Wednesday night "Fish Fry" at Smith's Point, an event that was started a number of years ago by the residents of that small town to help raise funds for their church. It has become so popular that similar fish fries are held in Nassau on New Providence Island. The Fish Fry is an excellent opportunity to get better acquainted with both the native fish and our local residents. We're sure you'll enjoy both!

You'll also not want to miss the "Mini Crab Fest" held every Friday night at The Churchill Garden Bar next to the International Bazaar. The indigenous "land-crab" (primarily native to Andros island) is the main attraction here. Mr. Oscar Porter, the proprietor and a descendant of Andros, proudly serves up dishes like Andros Boiled Crab & Dough with Cassava, Andros Crab Soup and Andros Stuffed Crab. Accompaniments are their famous "Gully Wash" (a concoction of green coconut juice, sweetened milk and gin) and the music of a native Rake & Scrape band. The feast begins at 6:30 p.m.; be sure to get there early, as these delicacies often sell out quickly!