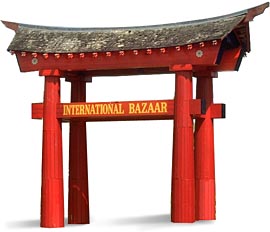 The Torii Gate (Japanese Symbol of 'Welcome')
At the Entrance to the Bazaar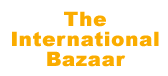 The design for the International Bazaar, which opened in 1967, was the brainchild of a motion picture special effects expert from California.
This 10-acre complex comprises 90 Shops, 13 Restaurants, and 6 Snack/ice Cream Stores. A multinational-themed shopping center, the Bazaar is divided into sections, representing different parts of the world (Africa Section, India Section, Oriental Section, French Section, South American Section, etc.). Many of the shops offer great deals on goods imported from their "mother regions." Rolex watches, French perfume, fine leather, and premium cigars are some of the items you can find.
Here are some of the places you might want to stop in: Jeweler's Warehouse, Oasis and Colombian Emeralds International.
The International Bazaar also has a Straw Market, where you can pick up local arts and crafts, and a perfume factory, where you can make and name your own fragrance.