Home Page
History & Culture
Admiral Horatio Nelson
Points of Interest
Brimstone Hill Fortress
Basseterre
Nevis
Charlestown
Beaches
Activities
Diving
Fishing & Boating
Golfing
Eco-Adventures
Travel Tips
Transportation
Accommodations
Restaurants & Nightlife
Calendar of Events
Destination Specialists
Best Bets
Tourist Offices
Geographia


St. Kitts & Nevis
Original Official Site of the St. Kitts & Nevis
Department of Tourism


Nevis, meanwhile, had risen to become the most celebrated sugar colony in the Caribbean. The "Queen of the Caribbees," as the island was popularly known, had been settled in 1628 by a group of 80 English residents of St. Kitts, headed by the tobacco planter Anthony Hilton. A larger group of settlers from England soon joined them, and the island was quickly cleared and developed for tobacco planting. Nevisian tobacco, however, was no rival to that of Virginia, and within a few decades the island turned toward sugar. Despite a small amount of sugar production in the middle of the 17th century, it wasn't until the arrival on Nevis of Sephardic jews who had fled Spanish persecution in Brazil that Nevis really began to flourish. Along with Dutch traders of the time, the refugees brought the Spanish secret of crystallizing sugar, preserved the product for shipping. By the early 18th century, Nevis' sugar industry had made it a fantastically wealthy colony, generating revenues equal to those of a number of North American colonies combined.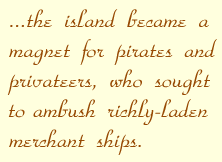 Of course, prosperity brought its own problems. First, the island became a magnet for pirates and privateers, who sought to ambush richly-laden merchant ships. In fact, pirates harrassed Nevis until the 19th century, until they finally disappeared along with the island's great sugar wealth. Second, Nevis became so dependent on slave labor that by 1700 about 3/4 of the residents were slaves. Third, and perhaps most important, Nevis' sugar wealth made it an attractive target for other countries--Spain, Holland, and France all made attacks on Nevis. The most consequential were two large French attacks in 1706, at the height of the island's prosperity. The attacks seriously damaged the island, and, all things considered, marked the beginning of Nevis' decline. Sugar production never completely recovered, and although Nevis was soon protected more strongly than ever (by no fewer than 15 fortifications in 1750) there seemed to be less to protect. Poor crop returns and a significant exodus from the island ended Nevis' reign as the Queen of the Caribbean sugar islands.
---
Click here to see what visitors are saying about interesting places in St. Kitts & Nevis.