Home Page
History & Culture
Admiral Horatio Nelson
Points of Interest
Brimstone Hill Fortress
Basseterre
Nevis
Charlestown
Beaches
Activities
Diving
Fishing & Boating
Golfing
Eco-Adventures
Travel Tips
Transportation
Accommodations
Restaurants & Nightlife
Calendar of Events
Destination Specialists
Best Bets
Tourist Offices
Geographia


St. Kitts & Nevis
Original Official Site of the St. Kitts & Nevis
Department of Tourism
Fishing Charters | Boat Charters
---
The waters off these islands abound with fish, including tuna, wahoo, dorado, kingfish, barracuda, shark, snapper, and mahi mahi. The creation of man-made reefs by placing old car bodies, stripped of hazardous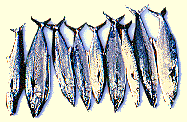 materials, has proven to be effective at increasing fish stocks and providing fisherman with known fishing grounds. Another technique used with increasing success is the building and anchoring of FADS (fish aggregating devices). These raft-like structures made from palm fronds and wooden pallets provide shade and shelter for small fish in specific areas. They are effective at attracting larger bill fish and mahi mahi, which feed on the smaller fish.
Fishing charters can be arranged from your hotel or: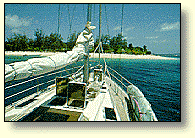 Boat Charters
Many options exist for sea excursions, trips to neighboring islands, and sunset cruises, which can be arranged through your hotel or:
---
Click here to see what visitors are saying about interesting places in St. Kitts & Nevis.