Capital of Nevis


St. Kitts & Nevis
Original Official Site of the St. Kitts & Nevis
Department of Tourism
---
Exploring St. Kitts | Exploring Nevis
A town with a colorful history, Charlestown was built on an area which could be protected by Fort Charles and Fort Black Rocks. It was the birthplace of Alexander Hamilton, whose family home has been painstakingly reconstructed as a museum. The original, built in 1680, was destroyed during an earthquake in 1840. Most of the 18th century stone houses were destroyed during the relatively common earthquakes of the 1800's, which led to a practice of building wooden upper floors over a ground floor made of stone.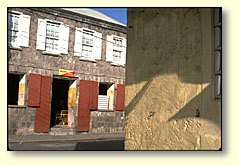 Charlestown is also the site of the oldest synagogue in the Caribbean. During the 1700's, 25% of the population were Sephardic Jews, who brought the latest in sugar cane growing and processing techniques to Nevis and the Leeward Islands, after being expelled from Brazil during the 17th century.
Charlestown's Market Place is the hub of activity on Tuesday, Thursday and Saturday mornings, and the Cotton Ginnery close by, is active during cotton harvest time (March and April).
---
Click here to see what visitors are saying about interesting places in St. Kitts & Nevis.