St. Kitts & Nevis
Original Official Site of the St. Kitts & Nevis
Department of Tourism
---
Exploring St. Kitts | Exploring Nevis
Its French name simply means "lowland," a description that must have been scratched onto a French sea chart sometime during the late 1620s. In the 375 ensuing years there have been many Basseterres, for earthquakes, floods, hurricanes, fires, and invasions have all swept through this modest community. Set before the dramatic backdrop of St. Kitts' lush green hills, Basseterre today retains much of the elegant Georgian character of Nelson's days.
The Treasury Building
The domed colonial building that stands right on the waterfront is a reminder of the value of these islands as sugar colonies. It is the Treasury Building, or customs house, and through its arches passed virtually everything that arrived at or departed from St. Kitts, including until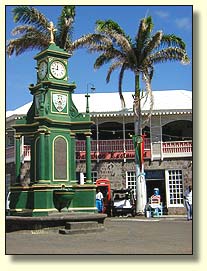 recently all visitors.
The Circus
Today Basseterre's French heritage is not nearly so prominent as its British colonial past. The centerpiece of the city's evocative Georgian architecture is its Circus, a diminutive roundabout modeled in proper Victorian patriotism after Piccadilly, in London. In the middle of the Circus stands the bright green bronze of the Berkeley Memorial Clock, an ornate, cast iron tower with four clock faces and more than a little architectural decoration.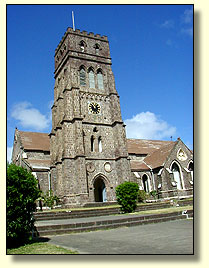 St. George's Anglican Church
St. George's, though christened Notre Dame in 1670 by the French, was destroyed four times before it adopted its present, Georgian style in 1869. In the graveyard, however, are stones dating from as far back as the early 18th century.
Independence Square
Built in 1790 for slave auctions and council meetings, this public square was officially named in 1983 to commemorate the independence of the island Federation of St. Kitts and Nevis from Great Britain.
More of St. Kitts | Exploring Nevis
---
Click here to see what visitors are saying about interesting places in St. Kitts & Nevis.

| St. Kitts & Nevis Home Page | History & Culture | Admiral Horatio Nelson | Points of Interest | Brimstone Hill Fortress | Basseterre | Nevis | Charlestown | Beaches | Activities | Diving | Fishing & Boating | Golfing | Eco-Adventures | Travel Tips | Transportation | Accommodations | Restaurants & Nightlife | Calendar of Events | Destination Specialists | Best Bets | Tourist Offices | Geographia |
---

This page, and all contents of this Web site are Copyright (c) 1996-2008
by interKnowledge Corp. All rights reserved.