St. Kitts & Nevis
Original Official Site of the St. Kitts & Nevis
Department of Tourism
---
St. Kitts and Nevis undoubtedly rank among the most naturally beautiful of the Caribbean islands, and that beauty lends itself quite well to a wide range of outdoor activities. The islands' tall, volcanic mountains, covered with lush vegetation, are perfect for hiking and exploring, while the inviting azure-blue waters of the Caribbean are ideal for swimming, sailing, fishing, and diving.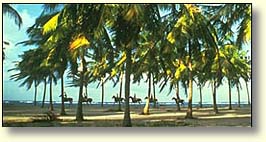 Beaches
On St. Kitts, the best white sand beaches are on the southern end of the island. These include Sand Bank Bay, Frigate Bay, Friar's Bay, White House Bay, Banana Bay, and Cockleshell Bay. Of these, Sand Bank Bay is probably the best. The eastern side of the island, facing the Atlantic has surf, and the northern part of St. Kitts has black, volcanic-sand beaches. Nevis has the justly celebrated Pinney's Beach, as well as a number of other fine, smaller beaches (including the lovely stretch of snad opposite Nelson's Spring).

Bicycling
At Meadville (Craddock Rd., Charlestown; phone: 469-5235) you can rent both mountain bikes and racing bicycles.
Cruising and sailing are becoming increasingly popular in St. Kitts & Nevis, and for good reason--in addition to the tradewinds scuffing off the Atlantic, these lush volcanic islands offer sailors remarkable views. There are many local captains and boats available for hire, by the day or week.

Golf
The islands' three golf courses, two of them professional caliber, are uncrowded and challenging. The beautiful Trent Jones course on Nevis is internationally ranked.
Both St. Kitts and Nevis have a good many trails leading into the mountains and rain forests. The local guides are especially knowledgeable here; they will instruct hikers on the medicinal uses of native plants, discuss the islands' history and culture, and identify local flora and fauna. You may arrange for a guide through your hotel.

Horseback Riding
Most hotels will make arrangements for you. Trips on St. Kitts include beach riding or riding to the rain forest. For those who are more interested in observing than participating, there are twelve races a year at the Indian Castle Race Track on Nevis (see Calendar of Events).
St. Kitts:
Trinity Stables

Ruth & Wilf Walters
P.O.Box 250, Basseterre
St. Kitts, W. I.
Phone: 869-465 3226
Fax: 869-465-9460
Contact: trinity@caribsurf.com
www.trinityinnapartments.com
Nevis:
Nevis Equestrian Centre
John & Ali Jordan-Gilbert
Nevis W.I.
Phone: 869-469-8118
Contact: alitalk@caribcable.com
Hermitage Plantation Inn
Nevis W.I.
Phone: 869-469-3477
Contact: nevherm@caribsurf.com
Snorkeling and Scuba Diving are only recently becoming established on the islands, despite that fact that their coastal waters hide dozens of unexplored shipwrecks.

Sport Fishing
Although sport fishing has not traditionally numbered among the islands' favored activities, careful conservation effortshave succeeded in attracting serious game fish to the waters surrounding these islands.
Tennis
On St. Kitts, tennis junkies should check out Jack Tar Village, where the Davis Park is hosted. Jack Tar has the best internal facilities, with clay, grass and tar court surfaces. Non-guests are welcome to take advantage of all the facilities by purchasing a day pass. You can also check out the local tennis scene at the St. Kitts Bridge and Tennis Club (at Fortlands in Basseterre; phone: 465-2938): and the St. Kitts Lawn Tennis Club (Victoria Rd., Basseterre; phone: 465-2051). On Nevis, the Four Seasons has professional coaches from the world-famous Peter Burwash International. There are also lighted tennis courts for night-time play. For an additional charge, non-guests can play and also take advantage of round-robin tournaments.

Water Skiing
Waterskiing takes place at Frigate Bay, on the Caribbean side (at Roy Gumbs Watersports; phone:465-8050). Jet skiis can be rented at Kenneth's Dive Center .

Windsurfing
Roy Gumbs Watersports has board rentals and lessons. Tropical Surf on Turtle Beach (phone: 465-2380) also has board rentals.
---
Click here to see what visitors are saying about interesting places in St. Kitts & Nevis.