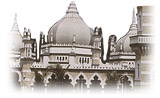 Masjid Jame
Located in Jalan Tun Perak, this Moorish mosque rests on the confluence of the Klang and Gombak Rivers, the birth-place of Kuala Lumpur. This is the very spot where the first settlers of Kuala Lumpur built their shacks.
The mosque, which dates from 1908, is the oldest in the city. It was designed by Arthur Benison Hubbock, an architectural assistant in the Public Works and Survey Department, who was intrigued and inspired by the Mogul architecture of India.
National Mosque
The boldly modern National Mosque is located near the railway station, along Jalan Sultan Hishamuddin. Its roof, designed in the shape of an eighteen-pointed star, has the appearance of a partly opened umbrella roof. The mosque was completed in 1965, and it is situated among five acres (13 hectares) of beautiful gardens. Visitors are required to remove their shoes. Special robes are provided if you are not appropriately attired.
Sri Mahamariaman Temple
Built in the late nineteenth century, this is one of the most ornate and elaborate Hindu temples in the country. The detailed decorative scheme for the temple incorporates intricate carvings, gold embellishments, hand-painted motifs and exquisite tiles from Italy and Spain. The Sri Mahamariaman Temple is the departure point for the annual Thaipusam Festival pilgrimage to the Batu Caves, and the temple houses a giant chariot that is used each year to transport a deity in the procession. Located along Jalan Bandar, Kuala Lumpur.
Islamic Centre
Located at Jalan Perdana, facing the National Mosque, is the Islamic Centre (Pusat Islam), a modern building of cubist and Islamic architecture. It is the centre of Islamic learning, art, design, and culture, and houses local and international Islamic exhibits.