Dataran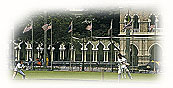 Merdeka
The Dataran Merdeka (formerly the Selangor Club Padang) was once the focal point, and cricket green, of the British colonial presence in Malaysia. Like the surviving Dutch buildings in Malacca, the structures edging the Dataran Merdeka are startling testimony to colonial residents' desire to recreate the physical environment of their native land. Situated on one corner of the square is the Selangor Club, which once served as the social centre for British residents. Although its membership today reflects Malaysia's remarkable cultural diversity, the building itself is plucked from the merry old England of the Tudors. Close by is St Mary's Cathedral, a neo-Gothic church more than a hundred years old.
Appropriately enough, it was on the Dataran Merdeka that at 12:01 am on August 31, 1957, the Union Jack was lowered and the Malayan flag hoisted, signaling Malaysia's independence as a nation. A 100-meter flagpole, one of the tallest in the world, marks the spot. Beneath the Dataran Merdeka is the Plaza Putra, an underground food, leisure, and entertainment complex, which houses the Putra Indoor Golf Centre, the first Par-T-Golf in the city.
Sultan Abdul Samad Building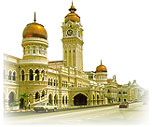 The gleaming copper domes and 130-meter clock tower of the Sultan Abdul Samad Building are by far the most impressive architectural feature of the Dataran Merdeka. This elaborate edifice is a fantastic blend of Moghul, Moorish, Arab, and British neoclassical architecture, a style far more expressive of the British colonial imagination than of Malay culture. Designed by architects Norman and Bidwell, the building took more than two years to build and was completed in 1897. It served initially as the center of British colonial administration in Malaysia. Today, it houses the Judicial Department on one end and Infokraf, a centre for Malaysian handicrafts, on the other.
Carcosa Seri Negara
Perched on a hilltop overlooking the Lake Gardens is Carcosa Seri Negara, a pair of nineteenth-century British colonial mansions. The Carcosa Seri Negara was the residence of the British Governor and British High Commissioners. Today, it has been converted into an exclusive hotel.
Parliament House
Standing on elevated ground commanding a panoramic view of the Lake Gardens is the modern Parliament House. The main building and its adjoining tower block accommodate the two houses of Parliament, a banquet hall, library, various offices and committee rooms. Visitors may view Parliamentary sessions by prior arrangement with the authorities, who will advise on protocol and dress code.
Istana Negara
The official residence of the Yang Di-Pertuan Agong (The King), located on a hillock at Jalan Istana. The palace is surrounded by green lawns, ponds and trees. On ceremonial occasions, the palace and its grounds are gaily lit-up.
Dayabumi Complex
The massive white modern complex of the famously expensive Dayabumi Complex was designed to blend in with the pervading Moorish and Byzantine atmosphere of the structures that surround it. The complex houses a shopping arcade, City Point, offices and the General Post Office.
Pak Ali's House
Located at the 10 km mark along Jalan Gombak. Designed in a unique blend of Sumatran and Persk architecture, the house was built early in this century by Haji Abbas bin Haji Abu Bakar, a headman of the Gombak village. The house is divided in to five main sections according to the traditional lifestyle of village folks. Open daily: 9am-5pm