History | Getting Around | Attractions
More than any other spot in the country, Kuala Lumpur, or "KL" as it is commonly known, is the focal point of new Malaysia. While the city's past is still present in the evocative British colonial buildings of the Dataran Merdeka and the midnight lamps of the Petaling Street nightmarket, that past is everywhere met with insistent reminders of KL's present and future. The city's bustling streets, its shining, modern office towers, and its cosmopolitan air project an unbounded spirit of progress and symbolize Malaysia's unhesitating leap into the future. To some, this spirit seems to have been gained at the loss of ancient cultural traditions, but in many ways KL marks the continuation rather than the loss of Malaysia's rich past. Like Malacca five hundred years before, KL's commercial centre is a grand meeting place for merchants and travelers from all over the world.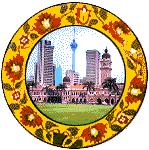 In the same way, the city brings together Malaysia's past and present, its many constituent cultures, and even its remarkable natural treasures, allowing first-time visitors an invaluable opportunity to see Malaysia as a whole before setting off to explore its parts. In the botanical and bird parks of the Lake Gardens one is treated to a first glimpse of the unsurpassed beauty and variety of Malaysia's plants and animals. In the vibrant Central Market, music, crafts, and cultural practices from Kelantan to Sarawak can be explored and experienced. And in the National Museum, the dizzying multiplicity of Malaysia's cultural history comes into focus. As the entry point for most visitors and the meeting point of the country's many attractions, Kuala Lumpur is a grand gateway to a fascinating destination.
Petronas Towers

Kuala Lumpur in the morning.

Petronas Towers at night
With a height of 1,453 feet, one of the world's tallest buildings rise above the skyline of Kuala Lumpur. They are called the Petronas Towers, and, inevitably, they have become the symbols for the astounding growth that has taken place in Malaysia over the last two decades.

LOCATION
Kuala Lumpur is situated midway along the west coast of Peninsular Malaysia, at the confluence of the Klang and Gombek rivers. It is approximately 35 km from the coast and sits at the centre of the Peninsula's extensive and modern transportation network. Kuala Lumpur is easily the largest city in the nation, possessing a population of over one and a half million people drawn from all of Malaysia's many ethnic group
RECOMMENDED TOURS
Finish your evening tour of Kuala Lumpur with a wonderful dinner in the Seri Angkasa Revolving Restaurant on the top floor of the majestic Petronas Towers click here.

Geographia has partnered with Viator to provide exciting adventure experiences in Malaysia.