History | Getting Around | Attractions

Like Sabah, Sarawak is known to international visitors primarily because of the extraordinary natural wonders of its national parks, including Gunung Mulu, the Niah Caves, and Bako. Sarawak's cultural treasures are also fascinating, reflecting the influence not only of the state's many ethnic peoples, but also the odd western influence of Sarawak's "White Rajahs."
The capital of Sarawak is Kuching. Malaysia Airlines flies regularly to Kuching International Airport as well as to Miri from Kuala Lumpur, Johor Bahru, Singapore, and Kota Kinabalu. Boats are a common mode of transport in Sarawak, as its the dense vegetation of its interior is crisscrossed with rivers. Travel in areas not reachable by boat is often by light aircrafts and helicopters. Major towns are serviced by buses.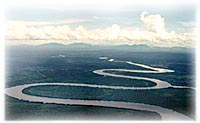 Sarawak's endless rivers form the vast state's transportational backbone. The most common crafts used along the rivers are called perahus; they are low-lying pencil thin canoes equipped with outboard motors, and they curl along with surprising speed and agility. The experience of riding in one, while the impossibly dense jungle wall breezes past, is unforgettable.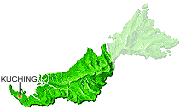 LOCATION
Sarawak is the largest state in Malaysia, an outback of sheer beauty rich in resources such as pepper, cocoa, palm oil, timber and oil. With an area of 124,450 sq. km, it is a region of endless fascination, possessing the largest cave chamber in the world, verdant jungles, unique fauna and flora, white beaches, and remote islands. Its population of 1.5 million people is as rich and varied as the land.


The capital of Sarawak: Kuching