For most visitors, the charms of Kelantan are found in the vitality of its culture and its remote, unsullied beauty. The traditional sports of giant kite-flying, top-spinning, silat, wayang kulit, bird-singing competitions and the making of exquisite handicrafts such as songket, batik, silverware and mengkuang products still remain fixtures here, offering a glimpse of tradtional Malay culture in truly spectacular setting.
Kelantan's coastline is almost completely undeveloped, and offers a number of idyllic beaches. Vast stretches of tropical forest cover the state, and its southeastern corner forms part of the Taman Negara National Park.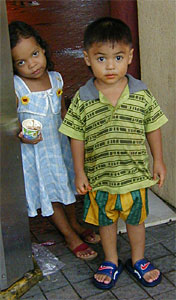 Children at market in Kota Bharu.

LOCATION
Coast of Kelantan is the northernmost state on the East Peninsular Malaysia. It has an area of 14,931 square kilometres. Rustic settings of picturesque vampings (villages) amidst padi-fields give insights into a way of life that has endured the passing of time. Kelantan's history dates to between 8000-3000 B.C. Chinese historical documents chronicle the existence of a government which had links with China, when Kelantan was referred to as 'Ho-lo-tan'.