For many visitors, the primary attractions of Sabah are its outstanding national parks, which include Kinabalu National Park, the Crocker Range Park, and the Sepilok Orang Utan Sanctuary. Others come to enjoy the islands of Tunku Abdul Rahman National Park and the diver's paradise of Pulau Sipadan. However, Sabah possesses a number of other attractions as well, all of which are worth exploring.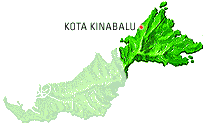 LOCATION
Located at the northeast corner of Borneo, Sabah was known in ancient times as the "Land Below The Wind" because it lies below the typhoon belt. Sabah's terrain is rugged, with Mt. Kinabalu, at 4,101 metres, dominating the surrounding landscape. It has a wide diversity of flora and fauna, as well as one of the world's largest rainforests. Sabah's people comprise 31 different indigenous groups, including the Kadazans, Muruts, Bajaus, Kedayans, Sulu, Bisaya, Rumanau, Minokok, and Rungus.
International access to Malaysia'a eastern gateway is through Sabah's capital, Kota Kinabalu, which receives flights from Kuala Lumpur, Johor Bahru, Kuching, Singapore, Hong Kong, Manila, Brunei, Jakarta, Seoul, and Taipei. Domestic travel in this vast state is via daily flights between Labuan, Sandakan, Lahad Datu, and Tawau, though large areas are still inaccessible. A rail network stretches from Kota Kinabalu to Tenom, and buses, taxis, and boats are also available.