Aruba: Water &
Windsurfing
---
The Original Official Homepage of the Aruba Tourism Authority
Windsurfing Shops | Watersports Operators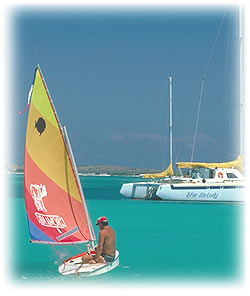 The very shape of the Divi-divi tree is poetic testimony to the patient consistency of Aruba's cooling trade winds. So is the fact that Aruba is host to the annual Hi-Winds Windsurfing Pro-Am Grand Prix World Cup Tournament, an event that requires a good bit of wind just to announce.
Aruba's fame as a windsurfing destination has attracted some of the most skilled competitors, and instructors, in the world. Novices can take advantage of the gentler winds and abundance of equipment and instructors along the island's southern shore, and advanced students and experts have a choice of any number of prime locations along the northern and southeastern coasts. Aruba has earned the name of the Windsurfing Capital of the World.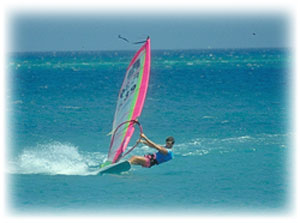 Every year in June, Aruba hosts the Hi-Winds Amateur World Challenge windsurfing tournament. This competition attracts the most competitive professional windsurfers and hundreds of amateurs to the island of Aruba and is sanctioned by the PBA (Professional Board sailers Association).
..................................................................
Windsurfing Shops

Divi Winds
Tel: (297) 582-4150
Happy Surfpool
Tel: (297) 586-6288
Pelican Watersports
Velasurf
Tel: (2978) 63600
Roger's Windsurf Place
Tel: (297) 586-1918
The Fisherman's Huts Windsurf Center
Tel: (297) 586-9000
Sailboard Vacation
Tel: (297) 586-2527
Unique Sports of Aruba
Tel: (297) 586-3900
Watersports Operators

De Palm Tours
Tel: (297) 582-4545
or 1-800-766-6016 in the U.S.
Pelican Watersports
Tel: (297) 583-1228
---
Aruba Home |History & Culture |
People & Language | Points of Interest |Activities |
Travel Tips |Transportation | Accommodations |Restaurants | Nightlife | Calendar of Events |Diving |Wildlife |Water & Windsurfing |Marriage in Aruba |Golfing |Gaming |Tourist Offices |Aruba Comments |Geographia Home Page |

---
This page, and all contents of this Web site are Copyright (c) 1997-2013 by InterKnowledge Corp. All rights reserved.