Aruba: Nightlife
---
The Original Official Homepage of the Aruba Tourism Authority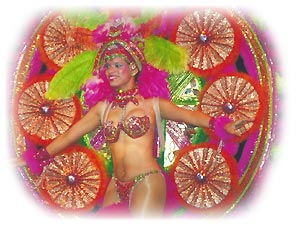 There are many comfortable, charming and exciting nightspots in Aruba with dancing, entertainment, and lively action-filled casinos. Most of the hotels have their own special night of entertainment. Tropical nights, beach barbecues and cocktail parties are always available. Attractions at the hotels and nightclubs feature water ballet, international entertainers, fashion shows, local dance groups, limbo and fire dances, steelbands, discos and the pulsating beat of local bands. The action in the casinos is constant and the atmosphere charged with excitement and expectation. There are many relaxing activities for those who prefer a slower paced evening; a tropical drink on a moonlit patio under a star studded sky, a quiet stroll on a peaceful beach or dinner in a quiet restaurant.
____________________________________Top
Discos and Dancing
Café Bahia
Weststraat – Oranjestad

Carlos ´n Charlies
Weststraat – Oranjestad

Club City One
Sasakiweg – Eagle Beach

Euphoria
L.G. Smith Blvd. – Royal Plaza Mall

Karma Lounge
Aventua Mall – Oranjestad

Havana Beach Club
L.G. Smith BLvd. – Oranjestad

Mambo Jambo
Royal Plaza – Oranjestad

Moo Mba Beach Bar & Restaurant
J. E. Irausquin Blvd. - Oranjestad
____________________________________Top
Café The Plaza
Oranjestad
Tel. 297-583-8826

Eetcafé The Paddock
Oranjestad
Tel. 297-583-2334

Banana Bus
Oranjestad
Tel. 297-993-0757

Kukoo Kunuku
Noord
Tel. 297-586-2010

Black Hog Saloon
Sasakiweg
Tel. 297-587-6625

Garufa Cigar & Cocktail Lounge
Oranjestad
Tel. 297-582-3677

Cuba's Cookin
Oranjestad
Tel. 297-588-0627
____________________________________Top
Aruba Bar Hopper Tour
Bonbini CHIVA PARANDA; an exclusive night out on the town on board a wooden, full of character, open air, colorful hand-painted 1947 Ford F500 bus.

Visit Aruba's favorite local hangouts. Tuesdays & Thursdays 6:30 pm - 12:30 am.

For reservations please call De Palm Tours activities desks or Tel: 011-2978-24400 / 37643 (24 hours) or 25353.
---
Aruba Home |History & Culture |
People & Language | Points of Interest |Activities |
Travel Tips |Transportation | Accommodations |Restaurants | Nightlife | Calendar of Events |Diving |Wildlife |Water & Windsurfing |Marriage in Aruba |Golfing |Gaming |Tourist Offices |Aruba Comments |Geographia Home Page |

---
This page, and all contents of this Web site are Copyright (c) 1997-2013 by InterKnowledge Corp. All rights reserved.