Aruba: Golfing
---
The Original Official Homepage of the Aruba Tourism Authority
A warm, balmy climate and a remarkable landscape make Aruba an ideal environment for golfing. With the recent construction of Tierra del Sol, designed by Robert Trent Jones II, the island's natural potential has been carefully groomed to create a world-class course.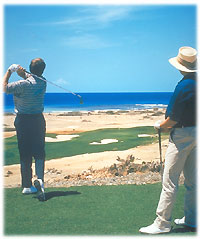 Situated at the northwestern tip of the island and conveniently located to the island's major resorts and hotels, Tierra del Sol is an 18-hole, par 71 course that can hold its own with any other course in the world. There is more to this course than its meticulously designed and maintained greens, however. The Robert Trent Jones group, appreciating the natural resources of the island, has managed to pair peerless course design with a celebration of Aruba's wildlife. From the wild, green parakeets on the organ-pipe cactus to the lizards and salamanders that bask on rock formations, the wildlife of Tierra del Sol has become an attraction in its own right. A saltwater salina on the 4th hole is home to several exotic bird species. Wild burrows graze alongside the par-5 fifth hole, and Aruba's endangered burrowing owls perch atop the small coral caves near the par-3 sixth hole. Afterward, golfers can relax at Tierra del Sol's clubhouse and swimming pool, or take in the panoramic views from the restaurant.
Aruba's other major golf attraction, the Aruba Golf Club, a nine-hole course offers enthusiasts the opportunity to play the most unusual golf course in the Caribbean. With oiled sand greens, steady trade winds, and the occasional goat as a hazard, the Club course is well worth a visit.
Tee times at Tierra del Sol and the Aruba Golf Club can be arranged through the front desk at your hotel, or you can call Tierra del Sol directly at (297) 586 7800; fax (297) 586 4970
www.tierradelsol.com
Click here to see what visitors are saying about golfing in Aruba.
---
Aruba Home |History & Culture |
People & Language | Points of Interest |Activities |
Travel Tips |Transportation | Accommodations |Restaurants | Nightlife | Calendar of Events |Diving |Wildlife |Water & Windsurfing |Marriage in Aruba |Golfing |Gaming |Tourist Offices |Aruba Comments |Geographia Home Page |

---
This page, and all contents of this Web site are Copyright (c) 1997-2013 by InterKnowledge Corp. All rights reserved.