Aruba: Activities
---
The Original Official Homepage of the Aruba Tourism Authority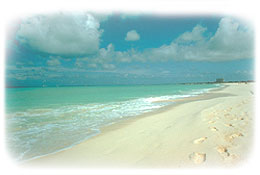 Beaches
The southern, leeward coast is lined with beautiful, sparkling white sand and is commonly known as the Turquoise Coast for the colorful tint of the water. There are many secluded sections of private beach or more popular strips by the hotels. Baby Beach down at the eastern tip is a natural wading pool that is perfect for families with small children. The northern coast is more rugged and windswept and can be dangerous for swimming.
--------------------------------------------------
Deep-Sea Fishing
Boats can be chartered to fish for sailfish, marlin, tuna, bonito and wahoo or just to go out watching for dolphins off the coast of Savaneta. The international White Marlin Competition is held in Aruba each October.
Deep Sea Fishing Boats

"Dorothy"
Length 34 ft
Tel.: 297-582-3375
Contact: dorothycharters@hotmail.com
"Lucky Star"
Length 33 ft
Tel: 297-593-1920
"La Tanga"
Length: 31 ft
Tel: 297-587-7473
Contact: latangacharters@hotmail.com
"Melinea"
Length: 32 ft
Tel: 297-993-1550
Contact: adventure@setarnet.aw
"Three Sons"
Length 33 ft
Tel: 297-593-2680
"Sea Doll"
Length 38 ft
Tel: 297-582-4478
"Driftwood"
Length 35 ft
Tel: 297-587-7473
--------------------------------------------------
Water Sports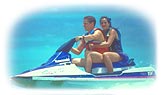 Most of the hotels, in addition to the sporting shops, offer equipment and instruction in water-skiing, parasailing, windsurfing, jet-skiing, and sailing.
--------------------------------------------------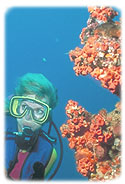 Scuba-Diving & Snorkeling The offshore waters offer great visibility of up to 100 feet and the 42 major dive sites provide an amazing variety of underwater activity: numerous shipwrecks from 25 to 400 feet deep are waiting to be explored, and the waters are teeming with sea life including manta rays, barracuda, and the rare green moray. All levels of diving from beginning to advanced are available, and instruction and equipment can be arranged for at any of the major hotels. For the less adventurous, glass-bottomed boats and submarines make trips out to view many of the aquatic sites.
Red Sail Sports
Phone (297) 586-1603
Scuba Plus
Phone (297) 584-4292
Dive Aruba
Phone (297) 582-7337

Pelican Water Sports
Phone (297) 587-2302

Water Sports Roberto
Phone (297) 593-2850
Sea Star Scuba School
Phone (297) 584-5058
Unique Sports of Aruba
Phone (297) 586-0096

SEAruba Fly 'n Dive
Phone (297) 588-1150

Aruba Scuba Center
Phone (297) 582-5216
Scuba Aruba
Phone (297) 583-4142
Native Divers
Phone (297) 586-4763

Dax Divers
Phone (297) 585-1270
Rainbow Runner
Phone (297) 583-1689
Aruba Water Sports Center
Phone (297) 586-6613
Aruba Pro Dive
Phone (297) 582-5520
---
Aruba Home |History & Culture |
People & Language | Points of Interest |Activities |
Travel Tips |Transportation | Accommodations |Restaurants | Nightlife | Calendar of Events |Diving |Wildlife |Water & Windsurfing |Marriage in Aruba |Golfing |Gaming |Tourist Offices |Aruba Comments |Geographia Home Page |

---
This page, and all contents of this Web site are Copyright (c) 1997-2013 by InterKnowledge Corp. All rights reserved.