Aruba: People and Language
---
The Original Official Homepage of the Aruba Tourism Authority
People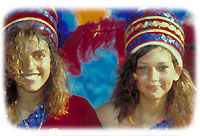 The population of Aruba is of mixed descent and can trace its ancestry back to 40 different ethnic backgrounds from around the world. The native language is a creole dialect called Papiamento which is made up of elements of Dutch, Spanish, English, French, Portuguese, a number of different African languages, and Arawak Indian. Nearly everyone on the island is able to speak English and Spanish, in addition to Dutch, which is the official language of Aruba.
Aruba's Language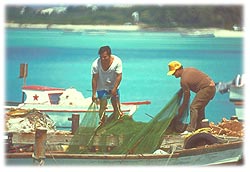 Papiamento is a unique language which is only spoken on the Dutch Caribbean islands. It was considered a local dialect and of no significant interest until the year 1995. Three years later the Government decided to teach Papiamento officially in the schools as a new language subject. Papiamento books can be found in bookstores and the language is quite easy to learn.
Below we have included a few words and sentences that are guaranteed to win hearts.
Welcome: Bon Bini
Good Morning: Bon dia
Thank you: Danki
How are you?: Con ta bai
Very Good!: Hopi bon
I am fine: Mi ta bon
I or I am: mi
Have a good day: Pasa un bon dia
See you later: Te aworo
Food: cuminda:
Bread: Pan
Soda: Refresco
I love Aruba: Mi stima Aruba
Have fun!
............................................................
Click here to see what visitors are saying about the people and culture of Aruba.
---
Aruba Home |History & Culture |
People & Language | Points of Interest |Activities |
Travel Tips |Transportation | Accommodations |Restaurants | Nightlife | Calendar of Events |Diving |Wildlife |Water & Windsurfing |Marriage in Aruba |Golfing |Gaming |Tourist Offices |Aruba Comments |Geographia Home Page |

---
This page, and all contents of this Web site are Copyright (c) 1997-2013 by InterKnowledge Corp. All rights reserved.