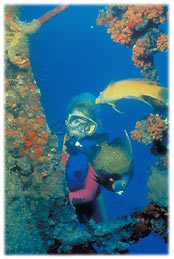 There is plenty of wonderful diving to be enjoyed on Aruba, particularly along its sheltered southwestern coastline. A large number of outstanding dive sites, some of which are listed below, have been charted, and there are several very good dive operators on the island. Aruba is currently working to preserve the ecological health of its many stunning reefs. The island's leading ecological groups have begun a number of preservation and educational programs, including the installation of dozens of mooring buoys, a popular reef clean-up program (in which divers are welcome to participate), and has established a protected underwater park.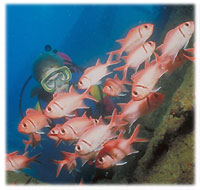 Pedernales Wreck (35')

The wreck of the Pedernales, an oil tanker torpedoed by a German submarine during the last World War, is a paradise for beginning divers.
Click here to read more...
A listing of some of Aruba's dive operators follows the site list.

Dive Sites
California Wreck (30'-45')
The fascinating wreck of the California is located at a depth that is ideal for underwater photography. The wreck is surrounded by large coral formations and by an abundance of tropical fish. Because it is located in the dangerously choppy water and strong currents of the island's windward side, the wreck of the California is only for advanced divers. The California made history as the ship that received, but failed to respond to, the S.O.S. signals sent from the doomed Titanic. The California is almost 100 years old.
Cudaredo Rocks
Huge waves crash around the rocks at the northernmost point of the island. On calm days, divers and snorkelers will encounter a multitude of fish here.
Arashi (35'-40')
Arashi is a fascinating reef for novice divers. An abundance of brain coral, huge star corals, and sea fans are surrounded by parrot and angel fish.
Antilla Wreck (60')
Referred to locally as the ghost ship, the Antilla is a German freighter that was scuttled by the Germans in 1945. The Antilla is the largest wreck in the Caribbean (400' long) and was sunk when it was brand new. The wreck is excellent for penetrations because of its large compartments. Covered by giant tube sponges and coral formations, the Antilla is surrounded by lobsters and many kinds of tropical fish (mainly angel fish and yellow tails). It is a great place for night diving.
Malmok Reef (70')
Paths of wildly spread leaf and brain corals abound at this bottom reef. Malmok is noted for its huge lobsters as well as for the unusual number of sting rays that take their daily siesta here, just waiting to be photographed. Giant barrel sponges--purple, orange, and green--cover the area.
Rum Runner Wreck
The Rum Runner was an old wooden fishing boat converted for tourist cruises. When it was no longer serviceable, the Rum Runner was sunk as a marine habitat. It is now a home for fish, lobsters, and turtles, with corals and beautiful anemones growing on the hull.
The wreck of the Pedernales, an oil tanker torpedoed by a German submarine during the last World War, is a paradise for beginning divers. The wreck's several large pieces are spread out between coral formations, making visible the complete wreck cabins, wash basins, lavatories, etc., as well as the tanker's pipeline system. The wreck of the Pedernales was cut into three pieces by the U.S. military during the war. The center piece, damaged by the torpedo, was left behind, and the two endpieces were towed to the U.S. and welded together into a smaller vessel. The new ship was a part of the Normandy invasion fleet. The area around the Pedernales wreck is known for its many types of groupers and its bounty of angel fish.

Harbour Reef (20'40')
Exciting barranca slopes with an abundance of plant life and soft coral formations. Giant brain coral heads, with surrounding orange, black, and blue sponges, make this another great dive for novices.
Tugboat Wreck (40'-90')
One of the best dives in Aruba. Dropping gradually through magnificent formations of brain, star, and sheet coral, you arrive at the wreck of an old tugboat that now serves as home to a pair of green morays. On occasion spotted eagle rays and sting rays can be seen very close by. This dive is a popular favorite and a great spot for photography.
Sonesta Reef (20'-60')
A sandy bottom with a wide range of brain corals. There are two sunken airplanes in the area, near the Sonesta Island.
Barcadera Reef (20'-80')
A sandy bottom with an abundance of brain corals and of a number of different species of huge sea fans. The fans oscillate hypnotically with the current, producing a remarkable sensation of movement.
Kantil Reef (40'-110')
Kantil Reef is a fascinating drop off, with gigantic boulders of brain and star coral, an abundance of massive formations of leaf and sheet corals, and plenty of huge sea fans and gorgoneas. There are incredible marine life encounters to be had here, with yellow tails, morays, groupers, and manta rays. Eagle rays can also be seen here. This is an excellent dive for photography and should definitely be logged.
Plonco Reef (20'-100')
Home of the green moray! Large green morays welcome you to the great underwater world. Large lobsters are found here scavenging the ocean floor. Giant coral formations contour the landscape.
Skalahein (15'-20')
Particularly fine coral formations sloping to great depth; well known for its large population of barracudas. Excellent for drift-diving. Great manta rays have been spotted here. This is a dive definitely to be logged.
Mike's Reef (25'-90')
Huge corals guide you into the homes of big barracudas and rainbow runners patrolling the coastline. Brain, mountain, star, and flower corals, as well as deep water gorgoneas and soft corals abound here. An excellent dive for macro photography.
Mangel Halt Reef (110')
A pronounced slope from 15' down to 110' gives you the opportunity to admire a myriad of coral combinations. You will see everything from grooved brain coral to deep water gorgonea, sea anemones, tube sponges, vase sponges, as well as all types of marine life--from octopus to sea horses and schools of yellow tails.
Porto Chiquito (20'-80')
A dive noted for its enormous diversity of sights. Giant star coral castles, as well as brain, star, pillar, flower, finger-leaf, and sheet coral proliferate. Big manta rays, as well as turtles, can be spotted here, and the site was once known as snapper city. Easily accessible by car. A dive not to be missed.
Jane Sea Freighter Wreck (30'-80')
At a depth of 80', the Jane Sea sloped so severely as to be nearly upright. The freighter is almost 200 feet long and is surrounded by some spectacular sea fans and brain corals.
Isla di Oro Reef (90')
A reef very similar to Mangel Halto. View moray eels, coral crabs, and schools of snappers playing around underwater coves formed of sheet coral and leaf coral. Sea rods and sea ships sway gently to the rhythm of the currents.
Commendeurs Reef (40'-90')
Sloping in the deep, formations of sheet and leaf coral decorate this dive. Extensive marine life includes snapper, groupers, grunts, french and queen angles, and runners and barracudas occasionally patrol the area.
Lago Reef (120')
One of the deepest of Aruba's dive locations. There are impressive coral formations here, as well as deep water gorgonea, sponges, sea anemones, and numerous marine life. All types of fish abound.
Baby Beach Reef (20'-60')
A unique opportunity for shore diving into the open sea. Large formations of elkhorn corals, combined with sheet coral, make it a perfect place for crabs, octopus, and lobsters.
Santana Reef (20'-50')
Elkhorn and staghorn corals are found everywhere here, making it an ideal spot for and abundance of marine life. Although entry is a little difficult, this very good dive is easily accessible by car.

Cabez Reef (50')
Because of rough seas with strong currents, this dive is for experienced divers only. It offers an exciting shore entry, where you come face to face with large schools of barracuda, amberjack, and rainbow runners. The location is also known for sting rays as well as for many different types of tropical fish. It is a virgin area.
Natural Bridge (20'-110')
Enormous, awe-inspiring boulders. Incredible formations of brain and star corals as well as plenty of fire corals. Black and soft coral also abound, and giant barrel sponges rise from the bottom to decorate the ocean floor. This dive site has rough waters and extremely strong currents at times. For advanced divers only.