Aruba: Wildlife
---
The Original Official Homepage of the Aruba Tourism Authority
Despite the fact that Aruba is such a popular island, the vast majority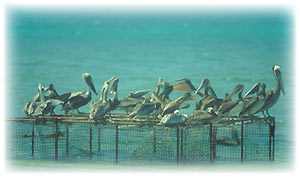 of its land and its surrounding waters are almost completely untouched by humans. In recent years, this ecological wealth and diversity has become recognized as the very foundation of Aruba's appeal. Whether admiring the endangered burrowing owls (Aruba's version of the Spotted Owl) near Tierra del Sol's sixth hole or enjoying a romantic evening watching, snowy egrets and scarlet ibis settle down on the quiet waters of Bubali Pond, exploring the island's beauty has become one of the primary pleasures of a visit. Today opportunities to explore Aruba's remarkable ecology abound.
Snorkeling and diving are the best-known and most direct ways to discover the dazzling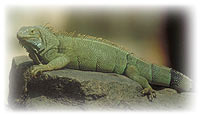 reefs that lay in the shelter of the leeward shore, but there are plenty of alternatives as well. Visitors can opt for the more leisurely observation of a glass bottom boat cruise, or they can even tour the reefs in a submarine. A multitude of land adventures are offered also--everything from introductory nature tours to specialized archaelogical, geological, and biological excursions, mountain bike tours, and even safaris. The stunning, austere appearance of Aruba's rocky, arid landscape is very much like the American

Southwest. The confounding geometry of exposed rock formations, clusters of cacti, and unearthly Divi-divi trees shelters an unexpected variety of animals, from iguanas to the brilliantly-colored ruby-topaz hummingbird. Whether you spend a few minutes strolling through the garden at Arikok National Park or a couple of weeks working on underwater photography, you should not miss the opportunity to become acquainted with Aruba's wildlife.
---
Aruba Home |History & Culture |
People & Language | Points of Interest |Activities |
Travel Tips |Transportation | Accommodations |Restaurants | Nightlife | Calendar of Events |Diving |Wildlife |Water & Windsurfing |Marriage in Aruba |Golfing |Gaming |Tourist Offices |Aruba Comments |Geographia Home Page |

---
This page, and all contents of this Web site are Copyright (c) 1997-2013 by InterKnowledge Corp. All rights reserved.