Location:
St. Kitts & Nevis are located in the northern part of the Leeward Islands in the eastern Caribbean, 19 degrees north of the equator, separated by a channel two miles wide.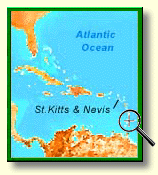 Size:
St. Kitts is 23 miles long and 5 miles across at its widest, encompassing an area of 68 square miles. The island's point of highest elevation is Mt. Liamuiga, at 3,792 feet. Nevis, the smaller island, lies to the south and is approximately 7 miles in diameter, covering a total of 36 square miles.
Climate:
Yearly average temperature is 79 degrees; annual rainfall averages 55 inches; humidity is low, and constant northeast trade winds keep the islands cool.


St. Kitts and Nevis, like no other islands in the Caribbean, seem to embody a kind of lush tropical paradise usually associated with the South Pacific. The atmosphere here is palpably luxuriant, an intoxicating blend of sunlight, sea air and fantastically abundant vegetation. At the center of St. Kitts stands the spectacular, cloud-fringed peak of Mount Liamuiga (pronounced Lee-a-mweega), a dormant volcano covered by dense tropical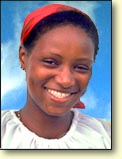 forest. And on Nevis, too, the ground rises upward into a cloud forest filled with elusive green vervet monkeys and brilliant tropical flowers. For ecotourists, or simply anyone who enjoys stunning natural beauty, St. Kitts and Nevis cannot fail to exceed expectations.
And yet nature is only a small part of the wonder of these small, relatively undiscovered destinations. Long ago, St. Kitts and Nevis were the pearls of the British Caribbean, rich and enormously important islands that were celebrated throughout Europe. Nevis, the "Queen of the Caribbees," possessed unimaginable wealth from its super-productive sugar industry, while on St. Kitts the impregnable fortress of Brimstone Hill stood as the Gibraltar of the West Indies. In this venerable history is plenty of romance as well, for it was on Nevis that the dashing young Horatio Nelson met, courted, and wedded Fanny Nisbet, all the while attending to the whirling social life of the island's prosperous plantation estates.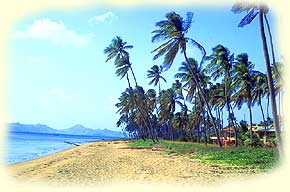 Today these islands are esteemed more for their long stretches of sugary sand than for their sugar cane. Basseterre and Charlestown, the islands' capitals, are among the most captivating and picturesque of the Caribbean's colonial harbour towns. The law here holds that no building here may be taller than the surrounding palm trees, and on both St. Kitts and Nevis natural preservation is a major value. Activities include outstanding hiking through the islands' rain forests, golfing on internationally ranked golf courses, fishing, boating and diving or snorkeling through underwater reefs and unexplored wrecks. There is also an exceptional wealth of historic points of interest, including restored fortresses, haunted plantations, and ancient petroglyphs. In the midst of all of these attractions are many of the finest and most welcoming plantation inns in the Caribbean. Still largely undiscovered, despite their extraordinary beauty, their remarkable history, and their unmatched charm, St. Kitts & Nevis offer a rare opportunity to visit the "Secret Caribbean."