Port Dickson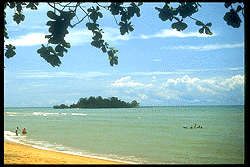 Port Dickson, the playground resort in Negeri Sembilan, is thirty-four kilometers from the state capital of Seremban and about an hour and a half from Malaysia's capital city, Kuala Lumpur. It has miles of fine sandy beaches fringed by Casuarinas, palms, and the intricate, above-ground root formations of the Banyan tree. The road to Port Dickson hugs the Malaysian coastline, making impromptu rest and swim stops almost impossible to resist. Vendors along the road offer thirst-quenching drinks of coconut water and sugar-cane juice.
A complete menu of leisure activities is available in Port Dickson, including water-skiing, canoeing, snorkeling, windsurfing, and sailing, all of which can easily be handled through the reception desk at your hotel.
Despite Port Dickson's reputation as an area firmly focused on beach resort activity, the sights and history of the surrounding area are well worth experiencing. At Kota Lukut, a mere seven km from Port Dickson, stands the fort of Raja Jumaat, a renowned nineteenth-century Bugis warrior. The fort was built in 1847 to control the lucrative tin trade in the area. Another rewarding site is the lighthouse at Cape Rachardo, built by the Portuguese in the 16th century in order to guide ships to the safety of Malacca's harbour. The lighthouse is still functioning today, and visitors can ascend its narrow spiral stair to the beacon, which offers a magnificent view of the coastline of Sumatra. The Cape is also a popular stopover point for migratory birds. From September to March, flocks of sparrows, honey buzzards, and swifts can be seen here, together with birds of prey, such as hawks and eagles.
Twenty-three kilometers south of the lighthouse, on the road to Malacca, sits the small and mysterious village of Pengkalan Kempas. The village houses the enigmatic 15th-century tomb of Sheikh Ahmad Majnun, whose epitaph explains that he fell while fighting to save a now unknown woman referred to simply as "the princess." It is home to a more prominent mystery as well, however. Beside the tomb stand three megaliths, elaborately carved, of unknown origin and use. As if to seal the reputation of this hamlet of the unknown, there is also in Pengalen Kempas an "ordeal stone." This ancient lie-detector, through which a person would put his arm when answering questions, allegedly reacts to an untruth by closing upon the liar's fist. Whether or not this story is true makes for an interesting dare.
Getting there:

Take the Kuala Lumpur - Seremban bus, then the Seremban - Port Dickson bus.
---