Pulau Langkawi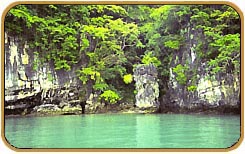 Pulau Langkawi is the foremost of a group of 104 islands lying off the coast of Kedah, in northwestern Malaysia. Clustered together in a confusing, labyrinthine mass and situated along a major trade route, the Langkawi islands have--like the Islands of the Bahamas--a long history as a refuge of pirates. Also like the Bahamas, the Langkawi islands have in recent times become an internationally-known resort destination, since the same attributes that made the islands so advantageous for piracy makes them ideal for tranquil, romantic holiday escape. With a wealth of soft, powder-sand beaches, limestone hills wreathed in mist, and cool emerald green jungle forest, the natural beauty of these Malaysian islands is irresistible.
In addition to their natural beauty and checkered past, the Langkawi islands are notable for the wealth of legends with which they are associated. The most well-known of these tales is that of Mahsuri, a lovely maiden executed after having been falsely accused of adultery. As the blood flowed out of her dying body, Mahsuri laid a curse on the island--that Langkawi would be barren for seven generations. Soon after, the Siamese attacked the island and ravaged it. Evidently seven generations have passed, as the island today possesses an abundance of enchanting flora and fauna in addition to a wealth of world-class holiday accommodations.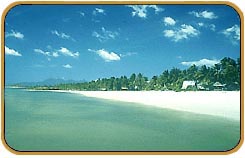 Among the many leisure activities available on the islands are snorkeling, scuba diving, boating, water skiing, wind surfing and parasailing. There are many scenic beaches on Pulau Langkawi, among them Pantai Cenang, Pantai Rhu, Pantai Kok, Pantai Tengah and the black sand Pantai Pasir Hitam. The seas around the island teem with fish, and fishing trips can be arranged through your hotel. Car rental is readily available for visitors interested in exploring Langkawi's interior; the roads are good, the scenery beautiful. Rustic Malay kampongs, rubber estates, scenic padi fields, and placid water buffaloes all mark the landscape. Migratory birds favor Langkawi, and the islands are also home to a number of species of butterflies not found anywhere else in the world.
---
Exploring the Langkawi Islands:
Kuah
The main town of Pulau Langkawi, it has a population of about 11,000. Located on the southeast of the island, the town offers handicrafts of shell and local marble as well as duty-free shopping. Its single main street runs along the waterfront.
---
Mahsuri Mausoleum
Located about twelve kilometers from the main town of Kuah on Pulau Langkawi. Mahsuri is the island's most famous legendary figure.
---
Air Hangat Village
Formerly a popular hot spring known as Telaga Air Hangat, Air Hangat Village is now a combination spa and cultural experience park. Located on an extensive site about sixteen kilometers north of Kuah, the village presents performances of Malaysian and Southeast Asian dances and traditional games as well as cultural shows and activities such as trained elephant performances and padi planting. The hot springs have been converted into an impressive three-tiered fountain that is accompanied by a hand-carved stone mural of their origins. Air Hangat Village also offers duty-free shopping, as well as fine Malaysian, Thai, and Indonesian cuisine served in its on-site theatre restaurant. Air Hangat is open from 10 am to 10pm daily.
---
Taman Buaya Langkawi (Langkawi Crocodile Farm)
The crocodile farm is situated at Teluk Datai, about thirty kilometers from Kuah Town. The farm has more crocodiles than one can easily imagine--over 1000 in all, including several rare species, as well as some alligators. Although there is an exhibition centre with displays on the life cycle of the crocodile and many specimens and photographs of every conceivable aspect of crocodiles, the real draw here are the lurking thousands of live animals. The farm has conveniently divided its ponds so as to satisfy a whole range of common fascinations. The ponds include:
The Species Pond. A good place to start for those who are still a little fuzzy on that crocodile/alligator distinction.

The Breeding Pond. A glimpse into the intimate lives of average crocodiles.

The Bridge-Over-Pond. The litmus test of people's crocodile fears, this pond allows the visitor to get a little more up-close-and-uneasy.

The Feeding Pond. An incontrovertible demonstration of the fact that crocodiles are way too fast and dangerous to be your friend.

The Show Pond. Man versus crocodile. An opportunity to ponder why anyone would ever decide to wrestle a crocodile.
The Lankawi Crocodile Farm is registered with The Convention on International Trade and Endangered Species (CITES). The farm includes dining and parking facilities as well as a souvenir shop. It is open from 9:00am to 5:00pm daily. Admission Fee: Adults RM5, Children RM3.
---
Kampung Tanamas
Located about fourteen kilometers from Kuah Town, the attraction of this modest village is that it offers visitors a chance to participate in a number of traditional Malaysian cultural activities. Kampung Tanamas is open daily from 8.30am-6.00pm. Entrance Fee: RM1.00 per person. (You can enter free of charge if you have the receipt to enter Mahsuri's Tomb.)
---
Pulau Singa Besar
Located about forty minutes by boat to the south of the main island of Langkawi. Because of its diverse ecological environment, this small, undeveloped island has been designated as a Bird and Animal Sanctuary. While there isn't much to do here other than to observe nature, the nature of Pulau Singa Besar rewards such attention.
---
Getting There
By Air: Malaysia Airlines has a direct flight to Pulau Langkawi from Kuala Lumpur and also from Penang. There is also direct service from Singapore.
By Rail: Rail services are available from Kuala Lumpur to Alor Setar; then take a taxi to Kuala Kedah for the ferry to Pulau Langkawi.
By Road: The North-South Expressway makes driving pleasurable from Kuala Lumpur to Kuala Perlis, a journey which takes about 5 hours. From here board a ferry to the island. (Regular ferry services are available from Kuala Kedah and Kuala Perlis on the mainland to Kuah, the main town on Pulau Langkawi. The trip takes about an hour.)
---