About a hundred kilometers south of Langkawi lies the island of Penang, Malaysia's "Pearl of the Orient." When first occupied by Captain Francis Light in 1786, the island was filled with lush tropical vegetation. The betel nut palm was a common sight all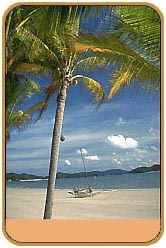 over the island--a fact which gave rise to the name Pulau Penang, Island of the Betel Nut. Penang has come a long way from its early beginnings as the first British trading post in the Far East. Its capital, Georgetown, is a bustling metropolitan city that from its earliest foundations has produced a unique blend of Eastern and Western cultures.
The famous beaches of Penang--Tanjung Bungah, Batu Ferringhi, and Teluk Bahang--offer all the scenic delights of a tropical island paradise. Penang is a resort island in full swing, with an abundance of fine hotels, discotheques, and all-night restaurants--the ideal playground for sun worshippers who gain speed as the sun goes down.
But there is another, undiscovered side of Penang. Along the northwestern coastline, on the opposite side of the island from Georgetown, lie some of the finest and least known beaches on the island. Sparkling sea, powdery white sand, and sunlight filtering through coconut groves awaits those who are willing to hike the jungle paths that are the beaches' only access. The effort is more than worthwhile.
---