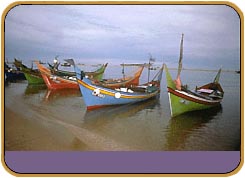 The magic of Terengganu begins the moment one enters Kemaman, with its picture-postcard fishing village and scenery. This atmosphere of peace and tranquility is heightens as one proceeds along the exquisite shores--passing through idyllic fishing villages, dreamy seaside towns, placid, palm-dotted lagoons and secluded bays.
---
Tanjung Jara
Tanjung Jara is a stretch of golden sandy beach embraced by the blue-green waters of the South China Sea. Located here is the Tanjung Jara Beach Resort. Styled after a Malay palace, but with all the modern amenities one could wish for, the resort is the recipient of the prestigious Aga Khan award for the best hotel architecture. Recreational activities on the beach include windsurfing, sailing and speed boating. Tours to the neighboring islands such as Pulau Tenggol and Pulau Kapas can be arranged.
Getting there:
There are regular bus services and many taxis plying the Kuala Terengganu - Dungun route.
---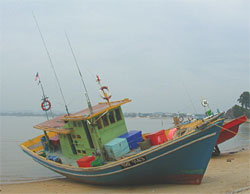 Marang
About ten kilometers south of Kuala Terengganu is the fishing village of Marang, famous for its sweeping scenery. Beauty and function converge in the rows of colorful, elegantly carved fishing boats moored on the sparkling waters. They have made for many a winning photograph, and are even more breathtaking when seen up close.
---
Kapas Island
Marang is also the take-off point for Kapas Island, about a half hour by boat. The waters around the island are home to an infinite variety of corals, seashells, fish, and turtles. On land, there are the famous Murai Batu--a song bird which reputedly has 23 different and equally beautiful melodies in its repertoire. The relative isolation of its spotless beaches, and the laid-back atmosphere, make this another favorite retreat.
Getting there:
To get to the islands, board a bus or taxi at Kuala Terengganu for the fishing village of Marang. It costs about RM 1 by bus and RM 10 by non-air conditioned taxi. Air-conditioned taxis charge RM 15.
---

Pulau Perhentian
Pulau Perhentian is a resting spot for fishermen and seabirds alike. The island lies 21 km off Besut in Terengganu. The sea journey takes about one and a half hours from Besut. Blessed with a long stretch of white sandy beach and exceptionally clear waters, Pulau Perhentian is a fine destination for snorkeling, scuba-diving, wind surfing, sailing and deep-sea fishing. Chalets and campsites are available.
Getting there:
From Kuala Terengganu, take a bus or taxi to the jumping-off point of Kuala Besut.It takes about an hour. From the Fisheries Complex at Kuala Besut, take a boat to Pulau Perhentian. The boat ride takes about 1 1/2 hours.
---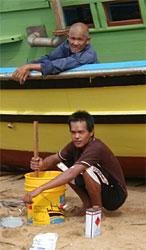 Pulau Redang
Another enchanting island off the coast of Terengganu is Pulau Redang. It is relatively uninhabited except for a fishing village built on stilts over the sea. Its surrounding waters support a variety of marine life--hard and soft corals of every hue, anemones, and colorful clams. The crystal clear waters make this an ideal spot for swimming, snorkeling, and scuba diving.
Getting there:

Ferry service is available from the Kuala Terengganu jetty and it takes 45 minutes.
---