Further up Malaysia's eastern coast are the enchanting beaches of Pahang as well as the fabled island of Tioman. Picturesque villages and the serene rhythms of the South China Sea make the Pahang coastline one of the most enchanting locations in all of Malaysia.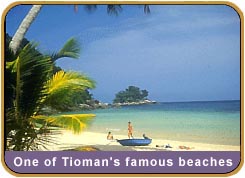 For centuries, Pulau Tioman has been regarded as a jewel in the sea. One early Malaysian legend claims Tioman to be a transformed dragon princess. Apparently the beautiful princess stopped enroute to Singapore from China to admire the charms of this spot. So enraptured was she that she decided to discontinue her journey, take the form of an island, and remain there as a place of shelter and comfort to passing travellers. Tioman's beauty, from its towering dual volcanic peak to its soft sands, swaying palms, and vibrant profusion of tropical wildflowers, is such that it lends credence to the tale. One indication of Tioman's enduring ability to inspire fables is that it was chosen as the location for the film version of the musical "South Pacific." It is Bali Hai.
Getting there:
The boat ride from Mersing takes about 1 1/2 hours, while from Singapore will be about 4 1/2 hours. Pulau Tioman is also served by Pelangi Air and Berjaya Air.
---
Teluk Chempedak
This popular beach resort lies five kilometers from Kuantan, Pahang. The beach has a range of watersports facilities, including sailing, surfing, and waterskiing. A wide range of accommodations are available. Balai Karyaneka, the handicraft center, offers visitors a delightful variety of local handicrafts--wood carvings, shellcraft, gold threaded songket materials, pandanus household items, Dara jade jewelry, and, of course, beautiful batiks.
---
Cherating
About 75 kilometers north of Kuantan. The sun-soaked golden beaches of Asia's first Club Mediterranee are excellent for a host of leisure activities, such as windsurfing, swimming, snorkelling and parasailing. Among the beach's attractions is the rustic atmosphere in the kampungs, whose friendly people will usually play host to visitors.
Getting there:
Take a taxi or bus from Kuantan or Kuantan Airport. Kuantan is accessible by air and road from many points within the country as well as from Singapore.
---