A twenty-minute drive from Sandakan, Sabah will bring you to Sepilok Forest Reserve, a enormous area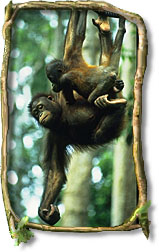 of virgin equatorial rainforest. The wealth of indigenous and rare plants, animals and birds that have found sanctuary here are to be seen to be believed. There are numerous self-guiding trails to help the visitor explore the reserve.
A most interesting feature of the reserve is the Orang-Utan Sanctuary. Here Orang Utans which have strayed into logging camps or rescued from captivity are cared and sent back to the forest.
THE PARK AT A GLANCE:
Size: 9.880 acres
GETTING THERE:
By Road: Driving West, about 20-minutes from the town of Sandakan.