A prime nesting site, the Kuala Gula Sanctuary in Perak has over a hundred species of birds, some of them protected. It is situated in the mangrove swamps south of Bagan Serai. The peak months for bird watching are between August and December.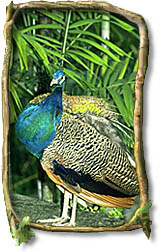 THE PARK AT A GLANCE:
Flora Fuana: Over 100 bird species, smooth otter, dusky leaf monkey, long-tailed macaque, ridge-backed dolphin.
Activies: Bird watching, nature walks.

GETTING THERE:
By Road: Head south from Bagan Serai, in Perak.