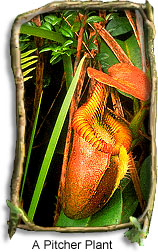 The Endau-Rompin area covers the boundary between Johor and Pahang. Sprawling over an estimated area of almost nine hundred suqare kilometers, it is one of the few remaining lowland forests in Peninsular Malaysia. It encompasses the watershed of the rivers Endau and Rompin, from which it derives its name.
THE PARK AT A GLANCE:
Size: 870 sq. km
Flora Fauna: Many unique and endemic carieties of plants have been discovered within the centuries-old forest such as the magnificent fan palm (Endauensis), climbing bamboo (Rhopa loblaste), and the slender-stemmed walking-stick palm (Phychorapis singaporensis). Pitcher plants, toadstools and orchids also grace the forest floor, and moths and butterflies of every shape and hue can be found flitting among the blossoms.
Activities: Jungle-trekking, swimming, fishing, adventure camping, bird-watching, botany, nature study.
GETTING THERE:
It is advisable to acquire an entry permit before making any arrangement to visit this area. Permits can be obtained from: PERBADANAN TAMAN NEGERI JOHOR
JKR 475 Bukit Timbalan
82503 Johor Bahru
Tel: 07-2237344, 7345
Fax:07-2235253
Special tours may be arranged to the area to accommodate a variety of interests.