Taman Negara (National Park) straddles the borders of Kelantan, Terengganu and Pahang in Peninsular Malaysia. A totally protected area of 4,343 sq km, Taman Negara is one of the world's oldest tropical rain forests. The diversity of its fauna and flora is a result of undisturbed evolution over 130 million years.
Taman Negara is a particularly favorable destination for trekking, as the park's remarkable biodiversity is matched by a good network of jungle trails and the availability of expert guides. The park is also noted for fishing, especially along the upper reaches of the Tahan or Kenyam rivers, and for rafting the rapids of Sungai Tembeling.
Peninsular Malaysia's highest mountain, Gunung Tahan (2,187 meters), is located in Taman Negara, and climbing the mountain is an unforgettable experience. Due to the scarcity of water along the route, the journey must be done in two stages, and an experienced guide is compulsory. At least three days are required for the journey to the summit and back.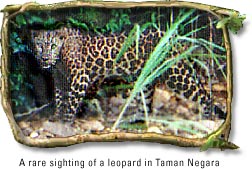 On the southern edge is Kuala Tahan, the park's headquarters, linked to the outside world by river. A three-hour river trip is the only overland route; an alternative is to take a flight from Kuala Lumpur to Taman Negara.
For further information, please contact:
Wildlife and National Parks Department
Km 10, Jalan Cheras
56100 Kuala Lumpur
Tel: 03-9052872
Fax: 03-9052873
THE PARK AT A GLANCE:
Size: 4,343 sq km
Highest Point: Gunung Tahan (2,187 meters)
Flora Fauna: Over 10,000 species of plants, 250 kind of birds. Local mammals include mouse deer, barking deer, wild ox, and numerous monkey species. Tapir, elephant, leopard and tiger also present, though not easy to spot.
Activies: Jungle-trekking, white-water rafting, fishing, guided nature walks
(Please note that Taman Negara is a restricted area. All bookings and reservations must be made in advance at the reservations office in Kuala Tahan, which can be reached by telephone at 03-2634434.)
GETTING THERE:
By Road: From Kuala Lumpur, the road journey takes about three hours. Travel to Jerantut by way of Mentakab or Raub. From Jerantut, Kuala Tembeling is sixteen kilometers north. Follow signs from Kuala Tembeling to the jetty.

By Rail: Train services are available from Kuala Lumpur and Singapore. The train passes Kuala Tembeling. From Kuala Tembeling, there is a half-hour walk to the jetty.

By Air: Pelangi Air flies to Taman Negara from Kuala Lumpur.