Located in the valley of the Sungai Kenong, the Kenong Rimba Park offers cave explorations, rock climbing, jungle trekking, and fishing. This is also the home of an aboriginal race called the Batak.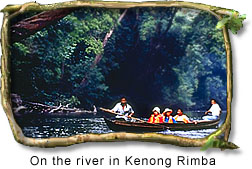 For further information, please contact:
District Forest Officer
Government Office Complex
27200 Kuala Lipis, Pahang
Malaysia (West)
Tel: 09-311273, 3144106
& 2777767 (Toll-free)
or
Tourist Office
KTMB Railway Station
27200 Kuala Lipis. Pahang
Malaysia (West)
Tel: 09-313277 & 213144
Fax: 609-311117
THE PARK AT A GLANCE:
Size: 128 sq. km
Highest Point: Bukit Batu Kapur
Flora Fauna: The caves are a natural habitat for for a host of flora which include orchids, "pokok Ara" and parasitic plants which thrive among the branches of the gigantic trees. It is also the home of numerous varieties of birds like the merbah, pigeons and merbuk to name a few. Nearby, water-lillies of multi-hued profusion grace the serene water of the padi-fields. Mammalian life includes the mouse-deer, porcupine and possibly elephants, too.
Activities: Cave expeditions, jungle walks, mountain climbing, swimming, picnicking, fishing.
An interesting legend surrounds the mango tree which bears luscious fruit of such sweetness. They may be eaten but a curse will befall anyone who tries to bring them home..
GETTING THERE:
By Road: a 5 minute walk away from the railway station (9th mile, Kuala Lipis) is the jetty of Sungai Jelai. Take a sampan for a 20 minute ride to Tanjung Kiara.
Alternatively, the journey by the river from Kuala Lipis takes between 2-3 hours.
There is a tour package organized by a travel agency and Keretapi Tanah Melayu Berhad.