Other interesting towns on our island:

CONCH CRACKING:
The procedure involves hitting the third ring of the crown (base) of the conch shell with a sharp object, such as a small hatchet or axe to make a hole. Then, the mollusk (conch meat) is dislodged with a knife or by hand from its shells. The winner is the person who "cracks" the largest number of conchs within a specified time. (There is a category especially for visitors.)
McLean's Town is actually located on a separate cay. It is the farthest settlement in the east that can be reached by road and consists of two roughly parallel roads: the north road boasts a couple of bars; the south road borders Carrion Crow Harbour, named after the carrion-eating "turkey" buzzard or vulture. The cay has an unreliable supply of ground water, therefore, water is pumped from the mainland. The villagers are good fishermen and those who own boats will ferry passengers to Deep Water Cay and Sweeting's Cay, the easternmost settlement.
McLean's Town is best known for the Conch Cracking Contest held during the Heroes' Day (formerly Discovery or Columbus Day) holiday in October. The contest started in 1972 when the principal of the McLean's Town All Age School, Mr. Jeffrey David Morgan, a British national, organized the first McLean's Town Conch Cracking Contest to raise funds for the school and the community.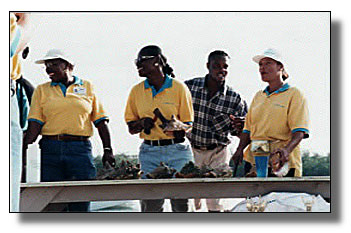 Conch Cracking at McLean's Town
Photo by Lionel Smith, Photo on Wheels
Today, the contest is but the main event in a culture-filled day where you can taste typical Bahamian dishes, participate in quadrille dancing, Junkanoo, climbing the greasy pole, sculling contests and beer sucking contests. Hundreds of people, Grand Bahamians and visitors alike, trek to this sleepy settlement to enjoy the festivities.