---
Freeport
---
If Grand Bahama has an historical capital, it is West End -- a coastal village flung out on the island's westernmost tip, 25 miles from Freeport. Swimming in its sea-sleepy streets is a history of arms smugglers, rum runners, and wreckers.

Prohibition was West End's biggest heyday. Warehouses and bars sprang up almost overnight, and you can still see them along the waterfront road. West End was mainly a transfer base, a place where liquor from Canada, England and Nassau was stored before being ferried over to the States. If you happen to come across any old timers as you wander around, ask them about those days. You just might hear names like Al Capone and Augustus Hepburn.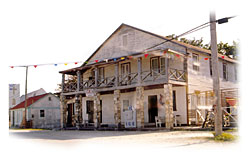 A stop at The Star Hotel, Grand Bahama Island's oldest hotel, is a must. West End's most famous historical landmark, it seems like a holdover from the days of Prohibition, but actually dates back to1946, just before Freeport was born. Austin H. Grant, Sr., who came from Eight Mile Rock, built the hotel, and it is still owned by the Grants today. In its early days, boaters from the U.S. mainland would make a point to stop over for a meal in the saloon or spend the night in its quaint surroundings. One such guest, the owners proudly recall, was Congressman Adam Clayton Powell, Jr., a frequent visitor to West End. Other visitors included retirees from the rum-running days, who would sit at the bar and regale patrons with their escapades.
Ten years ago, The Star's light dimmed when the town fell on hard times after the closing of Jack Tar Village. Though, it stopped operating as a hotel, it has gained new life as a native bar and restaurant that manages to retain much of the flavor of the past. In fact, its enterprising owners have recycled the Jack Tar's old bar into a showpiece that's worth visiting simply for its artistic qualities.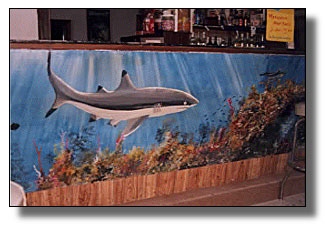 Photos by Anna Hanna, GBITB