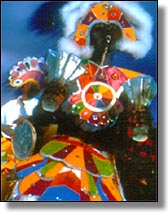 ..............................................................
Mr. Jackson Burnside III, one of the leaders of the "One Family" Junkanoo group in Nassau put it best when he said:
"Throughout the constant, physical changes, the spirit of Junkanoo has remained constant as an abandonment of emotional restraints, a free expression of self, time to get together to celebrate our way of life and to release a whole year's frustration. Therein lies the strong link to our African heritage."
..............................................................

"Junkanoo" is a procession of masked dancers in bright colourful costumes parading or 'rushing' through the streets, creating music with goat skin drums, cowbells, horns and whistles. These revelers spend up to a year before the parade 'pasting' their costumes in Junkanoo 'shacks' and practicing their theme songs.

This form of celebration was brought to The Islands of The Bahamas in the 16th and 17th century by African slaves. The exact origins are unknown, but the most popular version is that John Canoe, a beneficent plantation owner, allowed his slaves time off to celebrate on Christmas Day and New Year's Day. Thus the slaves named the celebration in his honour.

Junkanoo has not always been appreciated for its cultural nature, however. In 1899, an Act placed it in the Street Nuisance category and, during the early 1900s, the festival was opposed by the churches. They thought it was sacrilegious to hold it on Christmas Day. But a compromise was reached in 1938, declaring Boxing Day (the day after Christmas) a public holiday, and Junkanoo was moved from Christmas morning to Boxing Day morning.

At one point in 1944, Junkanoo was made illegal, following the riots of 1942 when certain groups used cowbells and drums. It was reinstated in Nassau on January 1, 1948, after it received official recognition as a tourist attraction. A year later, awards were introduced to bring about a more orderly celebration and promote the art of costume design. Over the years, Junkanoo costumes have evolved from fabric, palm leaves, newspaper and coloured glass into a beautiful, elaborate, hand-made costumes of crepe paper adorned with sequins and rhinestones.

Junkanoo became an organized event on Grand Bahama Island in 1970, with the advent of the Grand Bahama Masquerade Committee, led by Messrs. Oscar Porter and Austin Grant Jr., who organized the first parade in West End in 1971. Subsequently, Junkanoo groups moved to Freeport and in the mid 1970s the trend of making Junkanoo parades part of social activities at hotels was initiated by the social director at the former King's Inn, now Bahamas Princess Resort & Casino.

Today, Junkanoo parades are held in West End on Boxing Day and in Freeport on New Year's Day. Freeport's event provides a festive, cultural experience for both visitors and locals. The layout of the parade provides visitors a front-row view of the festivities and the carnival atmosphere gives them an opportunity to sample native food and drink and interact with Grand Bahamians. The costume design contest makes the parade very competitive among the settlements. In places like Pinder's Point, West End, and Hawksbill, there is a junkanoo shack for the local group, and people from the community come mainly to cheer on their favorites.