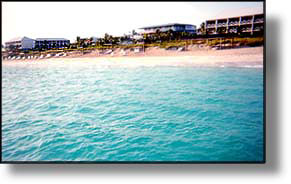 Providenciales, or more commonly known as "Provo", covers an area of 38 miles and is the most developed island in Turks and Caicos. Found on the west side of the islands Provo can offer all modern conveniences, including superb hotels, a casino and a Golf Club. Although Provo is the most mature of the islands, it is still a destination for those who want to escape their busy schedules and relax. There is a population of over 6,000, and Provo has the largest non-native population made up of Haitians, Dominicans, French, Canadians, Germans and Americans. The growing population is mainly due to the completion of the airport in 1984, which is capable of dealing with large planes.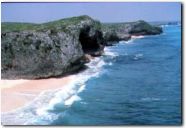 To the north of the island, near Sapodilla Bay, you will find the most beautiful beaches, and also a long coral reef which is rich in aquatic life. Towards the south of the island you will find Chalk Sound, a large lake with striking turquoise water and an array of small cays. The island's commercial port, South Dock, is found east of Sapodilla Bay and has the capability to deal with containerized goods.
The two main and oldest settlements on the island are Bight and Blue Hills, and are built around fresh water supplies. Both locations give a real feeling of Caribbean villages. If you wish to do some shopping, Provo can offer a good range of boutiques at Turtle Cove. Down Town you will find the likes of retail shops, business offices and travel agents.
Provo has attracted many hotel and resort developers and you will find the most accommodations and recreational facilities here.
Grand Turk | Salt Cay | South Caicos | East Caicos |
Middle Caicos | North Caicos | West Caicos | Providenciales |
---



The Original Official Web Site of the Turks & Caicos Tourist Board
This page, and all contents of this Web site are Copyright
(c) 1997-2006 by interKnowledge Corp.. All rights reserved.