Middle Caicos
Mudjin Harbour, a half-moon cave and a picturesque beach that juts out from the land to link up with an offshore Cay is a most dramatic feature. The huge limestone caves feature stalactites, stalagmites, bats, owls and salt lakes that link up with the sea, and are considered to be one of the most extensive cave systems in the region. There also the remains of huge Lucayan Indian settlements. One site excavated near Armstrong Pond in 1978 contains a Lucayan ball court, unknown elsewhere in the Lucayan islands. Artifacts recovered from the caves suggest that they were used either as shelter or sacred places. Middle Caicos also contains ruins of Loyalist plantations. A Frigate Bird colony resides on a cay Just offshore. A large blue hole just offshore in shallow water features an abundant variety of marine life. The island's Northwest Point is a combination of beautiful inlets, marshes, mangroves and in land ponds which serve as a haven for birdlife.



Being the largest of the islands Middle Caicos is 48 square miles of natural beauty. There are 3 settlements on the island, Conch Bar, Bambarra and Lorimers and there is a population of 275.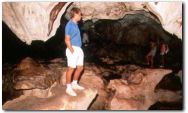 The coastline around Middle Caicos is more dramatic than that of the other islands, to the north there are Limestone cliffs with long sandy beaches. The south is dominated by swampland and tidal flats which almost covers half the island. Rain is plentiful on Middle Caicos, which is why the island is so green and ideal for agriculture. Middle Caicos is home to the largest caves in all Turks and Caicos at Conch Bar. There are 2 small but comfortable accommodations.
Grand Turk | Salt Cay | South Caicos | East Caicos |
Middle Caicos | North Caicos | West Caicos | Providenciales |
---



The Original Official Web Site of the Turks & Caicos Tourist Board
This page, and all contents of this Web site are Copyright
(c) 1997-2006 by interKnowledge Corp.. All rights reserved.